4x4 routes through the Tabernas Desert and the Sierra de Filabres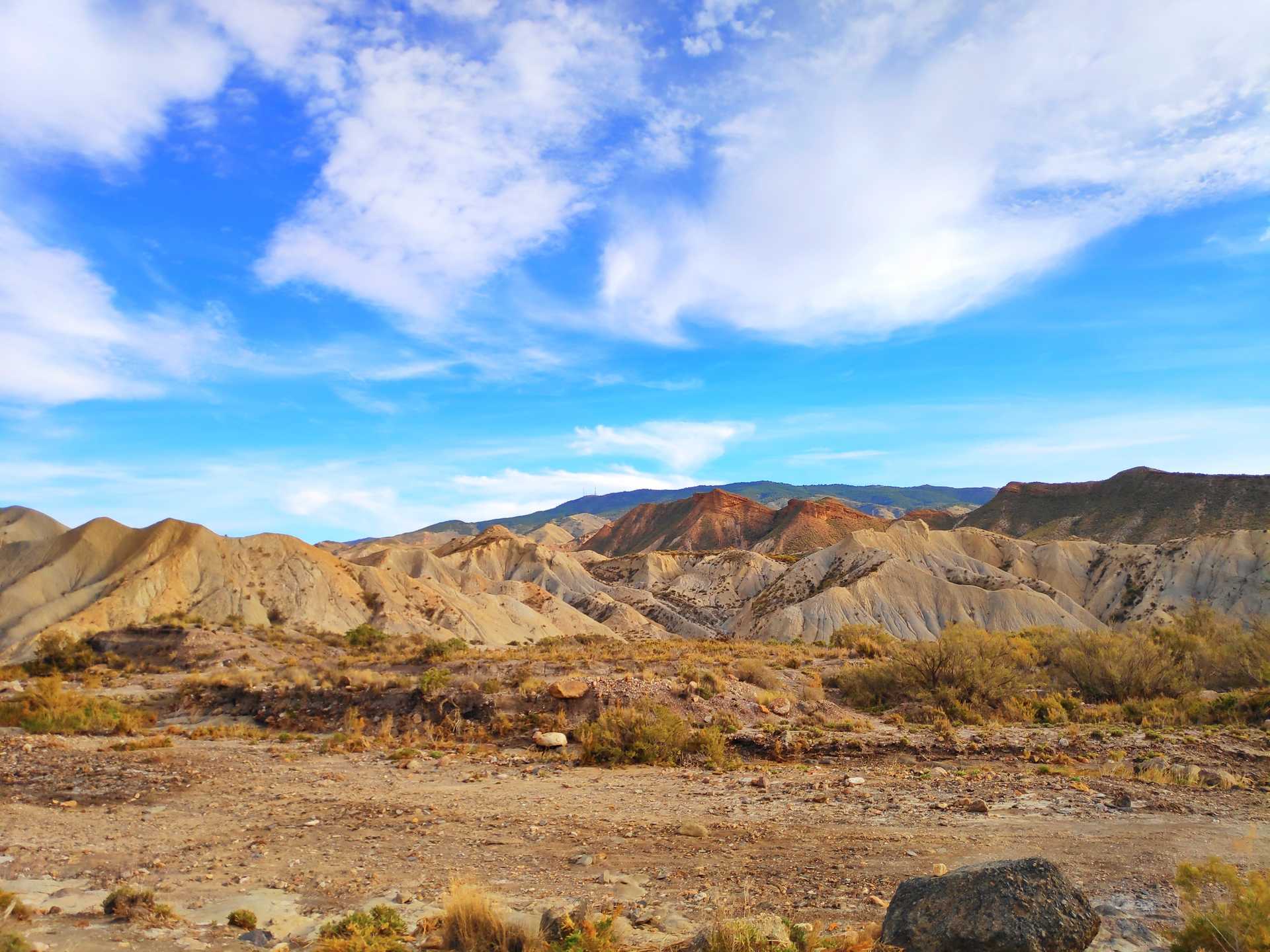 Those who thought that Almería was more or less flat, with a deep blue sky and beaches with crystal clear water, will be surprised to find the Sierra de Filabres mountains. It is a very different side of Almería!
Located in the northwest of the province, it is made up of peaks that stand almost 2,000 metres high. If you discover the two regions that it shelters, Almanzora Valley and Filabres-Tabernas, you'll be able to delve into deepest history of Almería, into its Palaeolithic remains and 19-century mining that proved to be revolutionary. It is also a land of enormous contrasts, with high mountains and a desert, which contain peculiar flora and fauna that are worth discovering.
If you fancy a tour of the towns and nature areas, we suggest 4x4 routes. Although you could go on your own, we advise you to book through a specialised active tourism company, which will take you to all the strategic points and give you detailed explanations. You will learn about the hundreds of stories behinds these Almería towns, which you didn't even know existed, while you enjoy the thrill of the wild landscape,
A tour of Los Filabres on four wheels will allow you to discover an uncharted nature area and one of the most unique in Spain. Serón, Purchena, Lubrín, Albox, Lúcar… and a huge number of abandoned farms, which speak of what the mountains used to be. These are towns that are worth visiting and whose residents will welcome you with open arms. There are many stories to be told!
Pay attention to the mountain fauna and flora. The most interesting species can be found in the Sierra de los Filabres Calares Special Conservation Area, with 14 relevant species including the colonies of birds of prey like Bonelli's eagles and others such as bats, endemic amphibians and lepidopterans.
If botany is your thing, in Serón there are two natural monuments: the El Marchal del Abogado holm oak and the Peana oak tree. On your journey you'll be able to see forests and undergrowth that change as you climb up to the snow-capped peaks of Calar: rockroses, brooms, oaks and pines, cork oaks and gall oaks. Don't forget to take deep breaths and enjoy the aromatic plants, such as thyme, lavender, pennyroyal and ironwort.
When you start to feel a bit peckish on the way, make sure you stop to enjoy one of the unique local dishes! Green bean casseroles, Moorish soup, porridge cakes and fried semolina crumbs are delicious and an example of typical recipes that have been around for thousands of years.
4x4 tours of western film locations
Another route not to be missed takes us to Tabernas, the only desert in Europe, which is also a film location. Because, since the 1950s, countless films have been shot here, even some of the classic westerns.
Tabernas Desert, together with the nearby Sierra Alhamilla mountains, are some of the most valuable nature areas with a great geological value and unique plants. The landscape, as strange as it is beautiful, emerged from the deep waters of the Mediterranean two million years ago and was eroded and shaped by the rain, wind and a wide range of temperatures (between -5ºC and 48ºC). And the light, which floods everything and diffuses the colours, falls on the ravines creating soft shadows that increase and decrease throughout the day. The 4x4 tour will allow you to discover the different and stunning landscapes that shape it, from amazing badlands to spectacular canyons.
This beautiful landscape is one you'll be familiar with already, thanks to mythical films such as Lawrence of Arabia, 2001: A Space Odyssey, Indiana Jones and the Last Crusade, and Conan the Barbarian. Guides will tell you all kinds of anecdotes about the movies, including filming mistakes that we all love to spot, such as a watch or sunglasses lying in the background of a period film. You'll discover why the legendary Sergio Leone fell in love with this enormous natural set and turned it into a symbol of the spaghetti western genre. Films such as A Fistful of Dollars, For a Few Dollars More and The Good, the Bad and the Ugly were all made here. You can be the next star!
4x4 routes through the Tabernas Desert and the Sierra de Filabres