Castillo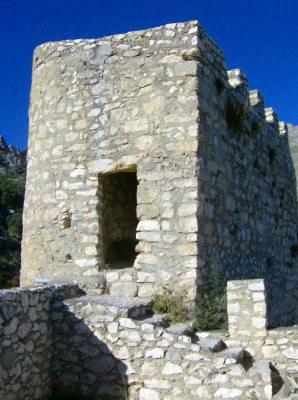 Read more
Read less
Albanchez de Mágina Castle stands above the town, on the first crag in Sierra de los Castillejos Mountains.
Its origin is presumably Christian. It was built of mortar and was probably erected belatedly, in the Early Middle Ages, at the beginning of the 14th century, as an alternative to another Moorish castle, of which only a few remains are preserved. It was built with rammed earth on the lower part, nearer the town.
The castle was connected to the Order of Saint James and commissioned by Bedmar and Albanchez. The alcazarejo is preserved, built in masonry. It is made up of two small groups, which look impressive from the outside and because of the walls on the crag. It did not, however, have much room to hold troops and equipment inside. The castle also used to have a small triangular parade ground, with a crenellated parapet and arrow-slit windows, a square terrace with a wall tower to defend over the precipice, protection walls – which are practically destroyed today – and exterior rounded corners, typical of a castle of the Order of Calatrava.
It was declared of Cultural Interest in 1985.
Services and infrastructure