Alcaracejos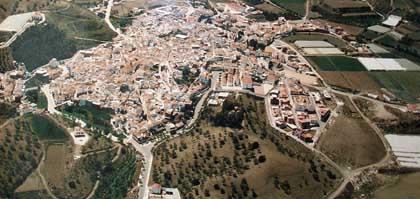 Read more
Read less
This small village belongs to the Los Pedroches region and stands in the north of the province. Its countryside consists of fields of cereals and olive trees, along with large expanses of holm oak meadows which are used as pasture for extensive cattle farming. One of the highest peaks in the Sierra, La Chimorra, stands within the village boundaries.
The streets of this quiet, peaceful village are narrow and winding, and are lined with typical houses with granite lintels on doors and windows, a common feature in this region.
History
Founded at the beginning of the 15th century, it survived as a dependent hamlet of Torremilano until 1488, when it became an independent municipality.

In 1550, Philip II ceded control of the village to the Marquis of Carpio, though Alcaracejos was once again returned to royal jurisdiction in 1747. .

P. Fita believes the village to have been the site of a Roman settlement, a theory which is supported by the remains found here pertaining to that period..

The origins of its name are less clear. It is believed by some to derive from the Arabic "Alcharac", meaning small bell. Others point to the Arabic diminutive "Al-caria" (hamlet) or consider it to be a corruption of Alcazarejos.

Alcaracejos
Municipio