Ermita de la Virgen de la Peña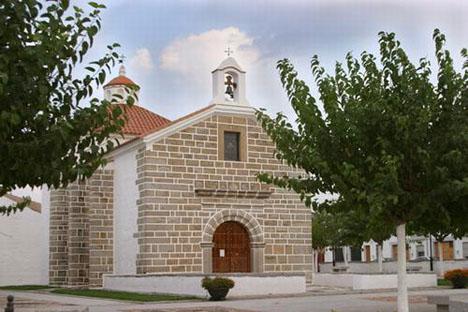 Read more
Read less
This shrine, situated in the higher part of the town, dates from the 18th century, although it was probably built on an old church site, as we can see from the Gothic side entrance.

At the end of the 20th century the shrine was refurbished several times, especially the perimeter walls, which were extended in 1917 because the Cattle Fair was held there in August. During the Civil War the shrine was used as a town warehouse and a bomb shelter.

The Virgen de la Peña, patron saint of Añora, can be seen here. It is a small image, 17.5 cm high, carved in polychrome holm oak wood, which seems to be Romanesque. It could be the pole of a crusader's banner, for crusaders used to pass through Añora.

Tradition holds that a shepherd was looking after the flock on the hill over the village and he thought he saw a small bird perched on a rock. The shepherd picked up a stone and threw it. Then he realised it was not a bird, but the image of a virgin holding a baby in her arms. He took it to his house and placed it on the pitcher support, and when the villagers found out they wanted to build a shrine. However, much to their surprise, one morning the image disappeared. The shepherd returned with the flock to the same place and found the image back on the rock, so they built the shrine in its honour in that same spot.

Services and infrastructure