Arcos de la Frontera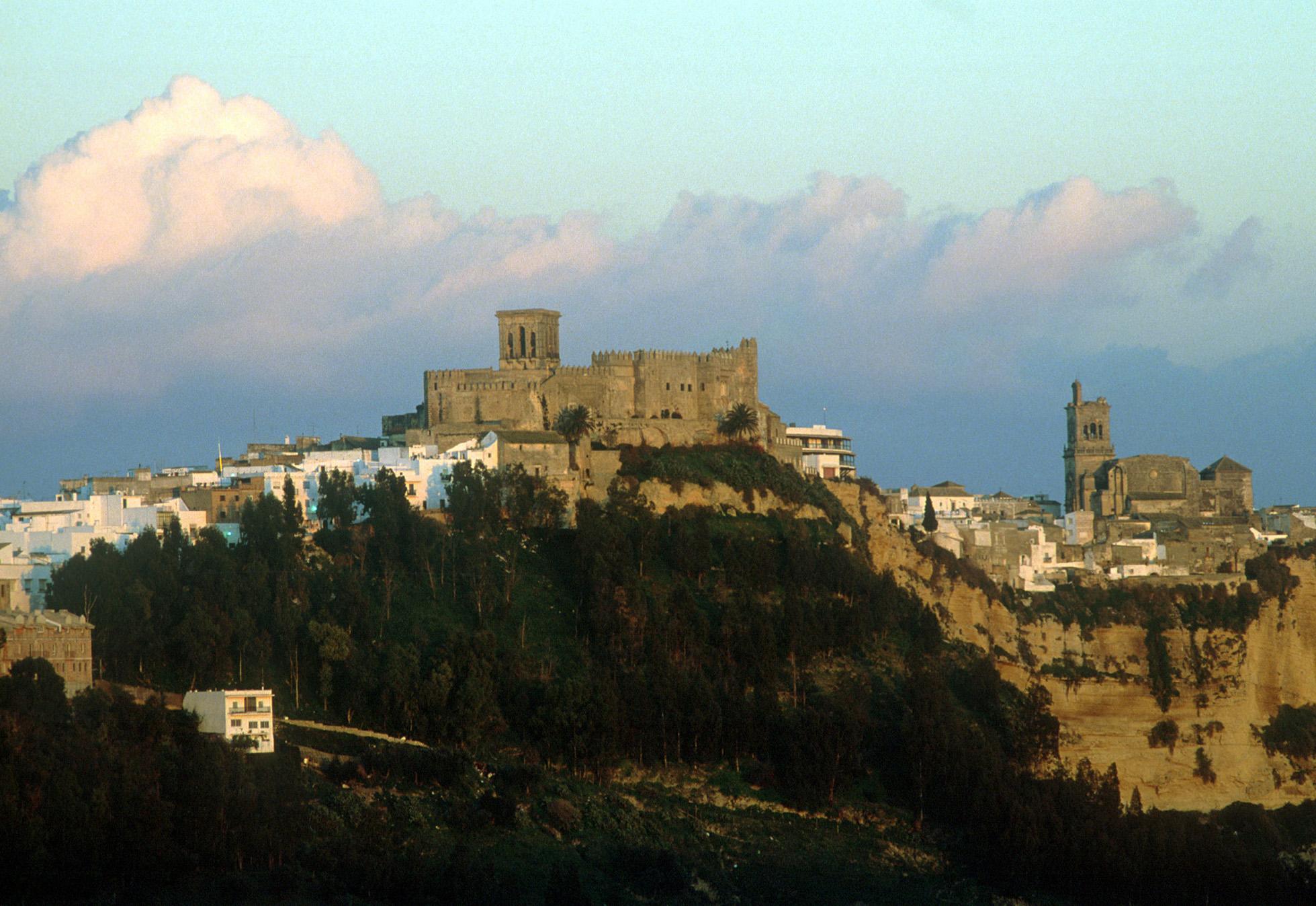 Read more
Read less
Situated between countryside and mountains, the town, which features scenery typical of both, is crossed by two rivers, the Guadalete and the Majaceite. The former supplies Bornos and Arcos Reservoirs, both of which have been declared Natural Beauty Spots as fine examples of wet zones.
Part of the town also falls within the boundary of Los Alcornocales Natural Park.
Standing atop a Rock with a sheer drop down to the river, affording spectacular views of the surrounding area, the town dates back to Moslem times. Today, recognised as a Monument of Historical and Artistic Importance, it consists of two districts. Its steep, narrow, winding streets and multitude of nooks and monuments of great beauty make it a most strikingly attractive location, the highlights of which are the Castle, and the churches of Saint Mary and Saint Peter.
History
Its privileged strategic situation, atop a hill -La Peña- made inaccessible by a sheer drop and surrounded by the River Guadalete, makes this point in Spain's geography the ideal location from which to follow the evolution of the different civilisations which, one after the other, have inhabited the Peninsula.
It is believed to stand on the site of the old Roman town of Colonia Arcensis.
The Moslems called it Medina Ar-kosch. It was a fortress belonging to a Taifa (kingdom) and, during the 13th century, it was a decisive enclave on the border between Moslems and Christians. In 1250 it came under the control of Ferdinand III, who changed its name to the present-day Arcos, though its Moslem inhabitants remained, to be finally expelled by Alfonso X (1264) after rebelling against Christian authority.
In 1408, the town was ceded as an aristocratic estate to Ruy Lopez de Avila; from 1440 until the 18th century, it belonged to the noble house of Ponce de León.
At the beginning of the 18th century, the town supported the cause of Philip V in the War of Succession, for which the king awarded it the title of "noble and most faithful town'.
It put up notable resistance to French occupation during the War of Independence, the town being occupied by Napoleon's troops between 1810 and 1812.
Arcos" intense history is evident during a visit to the town centre, which was declared a Monument of Historical and Artistic Importance in 1962. Numerous publications describe Arcos de la Frontera as the most beautiful town in Spain.

Arcos de la Frontera
Municipio
The weather today in Arcos de la Frontera
Max

18

Min

9

Max

64

Min

48
°C
°F