Belalcázar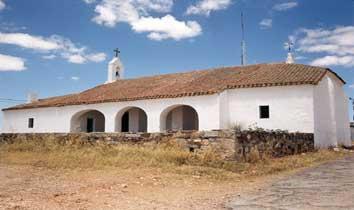 Read more
Read less
Belalcazar is situated in the Los Pedroches region, in the north of the province and on the border with the province of Badajoz. Its landscape is one of cereal fields and holm oak meadows. Many storks come to the area each year to breed and to spend the winter.
The village stands on a plain in the shadow of the impressive Castle, which is located atop a low hill, whose highlight is its well-preserved Keep; the village streets and houses are interspersed with family allotments and agricultural fields, though it also has a small old centre of irregular designt, made up of narrow, winding streets and typical houses, which is home to Saint James' Church, notable for its granite features, and Saint Clare's Convent, with its beautiful cloister.
History
Doubts exist over the origins of the village.

Archaeological findings bear witness to a Roman past.

Casas-Deza believes that a "Roman colony or town" once stood on the site of the present-day village, which was known at the time as Gaete.

During the Moslem occupation it was called Gafiq. Its position in the Valle de Bellotas (Fahs al Ballut), meaning "Acorn Valley", was crucial to communications in the area, which made it was a location of immense importance during the reconquest.

After several failed attempts, the village was finally conquered by Ferdinand III shortly before the capture of Cordoba. In 1243, the village came under the control of Cordoba, but Belalcazar was lost to the city's council in 1445, when John II made Gutiérrez de Sotomayor, Grand Master of Alcantara, the lord of the village.

Hinojosa del Duque and Villanueva del Duque remained under the city's jurisdiction.

In 1450, construction work began on the castle which would later give the village its name.

Eminent citizens
Abderraman Al Gafequi.
Obaidalaben Muza Al Gafequi.
Said ben Soleiman Al Gafequi.
Soleiman Ibn Aslan Al Gafequi.
Mohamed Ibn Qassoun Ibn Aslan Al Gafequi, a 12th-century opthalmologist.
Sebastian de Belalcazar, a 15th-century discoverer.
Abu Yafar Al Gafequi, a 12th-century pharmacologist.

Belalcázar
Municipio
The weather today in Belalcázar
Max

13

Min

8

Max

55

Min

46
°C
°F
Belalcázar
Tourist area
Distance to the capital (km)
104
Altitude above sea level (m)
488
Extension (Km 2 )
355
No. of Inhabitants
3466
Demonym
Belalcazareño
Postal Code
14280