Benalup-Casas Viejas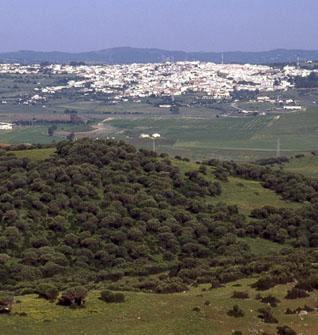 Read more
Read less
Recently separated from Medina Sidonia, this small municipality is located at the heart of the Janda region and crossed by two rivers, the Barbate and the Celemin, which irrigate an area of rich plains. To the west stand a series of low hills topped by agricultural fields and brushwood; the mountains which lie to the east belong to Los Alcornocales Natural Park.
Places of Interest in the village are the Tajo de las Figuras Cave and Benalup Castle and Tower.
History
The presence of prehistoric man is evident in Benalup in the form of a series of rock paintings, from the Neolithic period, found in the caves of El Tajo de las Figuras, Cimera and El Arco.

The area acquired further historical importance in the Arab-Andausí­ period with the appearance of a hamlet next to the castle of Ben Alup ("son of the wolf" or "son of love").

In 1555, the settlement appears in records as Casas Viejas, a name that it would retain until the tragic events of January 1933, when an attempted revolutionary uprising was bloodily crushed by the forces of law and order, an incident which sparked such widespread condemnation in the whole of Spain that it became a crucial factor in the fall of the cabinet led by Manuel Azaña during the Second Republic. Casas Viejas was renamed Benalup de Sidonia, becoming simply Benalup on its separation from Medina Sidonia in 1991.

Eminent citizens
Francisco Cruz Gutierrez, nicknamed "Six fingers", (1856-1933). Head of a family and a victim of the bloody events of January 1933.
Maria Silva Cruz, "Marí­a la Libertaria" ("Liberty Mary") (1915-1936).

Benalup-Casas Viejas
Municipio
The weather today in Benalup-Casas Viejas
Max

30

Min

23

Max

86

Min

73
°C
°F