Casares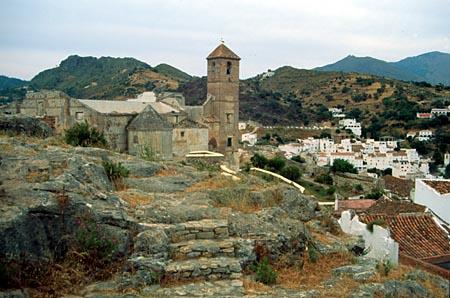 Read more
Read less
The village is located atop a hill between the Serrania de Ronda, the Costa del Sol and the Campo de Gibraltar region, which explains why its landscape varies from the spectacular ruggedness of the mountains at El Pico de los Reales, to the lowlands of the Guadiaro Valley, with its vegetable gardens and cereal fields, with a small coastal strip falling in the middle.
Casares, declared a Village of Historical and Artistic Importance, is considered one of the most beautiful in Spain. Its origins, according to a popular tradition, date back to Roman times, when Julius Caesar ordered its construction to show his gratitude after having been cured by bathing in La Hedionda Baths; the present-day village, however, is of Arabic origin.
Though the village as a whole is of immense interest, some monuments and locations are worthy of special mention: the castle ruins, Our Lady"s Church, Ballesteros and La Hedionda caves, the pothole at La Sima de los Huesos, and, last but by no means least, the birthplace of Blas Infante, a politician and writer considered to be the founding father of Andalusian nationalism.
History
The archaeological discoveries made in various caves within the boundaries of what is now the municipal AREA of Casares are evidence of human presence here since prehistoric times.
More significant are the relics of the Roman era; neighbouring Cortijo de Alechipe was the scene of a find which may be the ancient city of Licipo, built by the Romans on the site of a previous Iberian settlement. At this time, Casares, as an important town, minted its own coins and was involved in profitable trade, having established a communications link between the coast and the interior.
Legend has it that Lacipo was built on the orders of Julius Caesar, to show his gratitude at having been cured of a terrible skin disease after having submerged himself several times in the waters of La Hedionda Baths, though this tale lacks any historical foundation.
The structure and design of the present-day village date back to the Moslem occupation, as do the remains of the fortress which overlooks the hill on which Casares stands.
Conquered by the Catholic Monarchs in the late 15th century, it suffered, like many other locations linked with the vanished Nazari kingdom of Granada, a long period of decadence due to the departure of the moriscos (Moslem converts to Chritianity) who had hitherto lived there and who were definitively expelled in the second half of the 16th century.
More recently, in 1885, Casares witnessed the birth of Blas Infante Perez de Vargas, one of the leading figures in Andalusian nationalism; he was shot by Franco"s troops in 1936.
In 1978, the village was declared a Village of Historical and Artistic Importance.

Eminent citizens
Blas Infante Perez de Vargas (1885-1936), a major figure in the Andalusian nationalist movement.

Casares
Municipio
The weather today in Casares
Max

15

Min

10

Max

59

Min

50
°C
°F