Constantina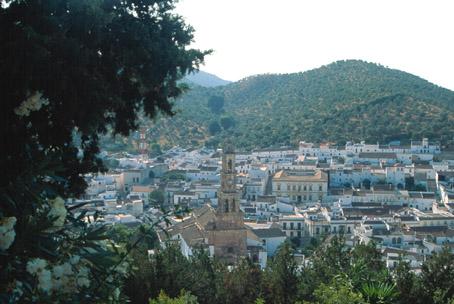 Read more
Read less
Mountain village located in the northern part of the province. It forms part of the Natural Park of Sierra Norte, AREA is also excellent for raising livestock. The Rivera of Huéznar is particularly beautiful.
It is considered the centre of the mountain villages and still conserves the medieval character of its urban layout, particularly around the Castle. It has other interesting monuments, including the Church of the Concepción, the residence of the Conde de Fuente de Salce, the Hospital of San Juan de Dios, the cloister of the Convent del Tardón, the Pósito, the Church of Santa Marí­a de la Encarnación and the Church of Nuestro Padre Jesús.
History
Ciudad de origen ibero. Parece ser que en el año 1200 a.c., los celtas fundaron el primer poblado con el nombre de Sucum-Murgi.
Los cartagineses la llamaron Lacuni Murgi y explotaron sus minas de plata y de hierro.
La ciudad actual se construyó cerca de una fortificación de los romanos junto al Cerro del Castillo, llamándose Constantia Julia, en honor a Julio César. Su importancia fue considerable porque por ella pasaba la Calzada Emérita que comunicaba Mérida y Sevilla; y porque en sus tierras se producí­a un vino famoso en toda Roma, el Cocolubis, que se exportaba desde el puerto de Sevilla. Acuño moneda propia.
Durante el periodo de Al-Andalus fue llamada Cotinema.
Tras la conquista cristiana llevada a cabo por Fernando III fue llamada con el antiguo nombre con que fue conocida en el periodo visigodo, Constantina.
En un principio pasa a depender de Córdoba hasta la conquista de Sevilla pasa a su jurisdicción. Luego dependió alternativamente del duque de Medina Sidonia y del marqués de Cádiz, hasta que le fueron entregadas las llaves a los Reyes Católicos en 1478 y la convirtieron en villa de realengo.
En el año 1931, el rey Alfonso XIII, le ratificó el tí­tulo de ciudad.
Con la guerra de la Independencia saldrí­a mal parada. Luego se recuperarí­a y progresó de tal manera que el rey Alfonso XIII le otorgó el tí­tulo de ciudad.
Personajes destacados
P. Valdecantos Garcí­a, escritor y polí­tico.
Emilio Lemos Ortega, autodidacta.
D. del Pino y Martí­n, escritor.

Constantina
Municipio
The weather today in Constantina
Max

24

Min

16

Max

75

Min

60
°C
°F