Gádor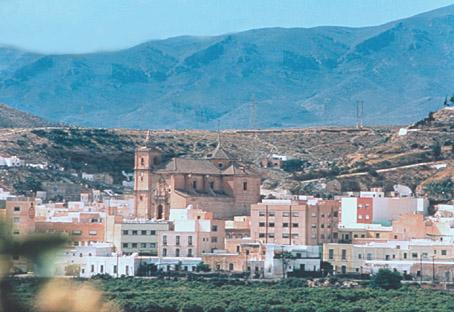 Read more
Read less
Gador is a white village situated on the slopes of the mountain range that shares its name, with unique oasis-like scenery (orchards of citrus fruits) and overwhelming deserts. Part of the Millares village belongs to its municipal AREA.
In the middle of this scenery stands the village with its interesting troglodytic architecture, luminous streets of white houses and the splendid Parish Church.
History
Village situated on the slopes of the Sierra de Gador. Of Arabic origin, although its name goes back to the Phoenician-Iberian culture. Its valleys full of orange trees are a significant feature of its scenery and agricultural activity.
From Neolithic times it is worth mentioning the important remains of the Millares settlement, a megalithic grouping of the III millenium BC and Argar tombs and ruins in the gullies of Huechar and Ciscarejo also from the III millenium BC. Remains from Roman and Byzantine times have also been found which verify its settlement during this historic period.
During Al-Andalus times it had a mosque and Arab quarter. An irrigation system was established and it is practically the same one as that in use now which took advantage of the water for both agriculture and milling in the XVI century and also for the installation of a forge.
With the Christian conquest the village had 160 inhabitants, in the most part Moors. With the Moorish uprising and their subsequent expulsion, Gador was left practically deserted. Its repopulation with old Christians was carried out after the year 1570.
During the XVII and XVIII centuries the new population was consolidated on the edge of a gully in the place where the village is today. In the XIX century the traditional agricultural economy based on local produce, oil and silk was interrupted to introduce the exclusive cultivation of the Ohanes grape and when this declined it was substituted by the orange. It also underwent a significant change due to the development of mining in this century. Specifically in Gador, installations for the working of sulphur were established. Interesting scenery with industrial archaeology remains as a witness to this activity. The mining activity has been substituted nowadays by cement works in the beauty spot of Jalvo.
Gádor
Municipio
The weather today in Gádor
Max

31

Min

19

Max

87

Min

66
°C
°F