Gérgal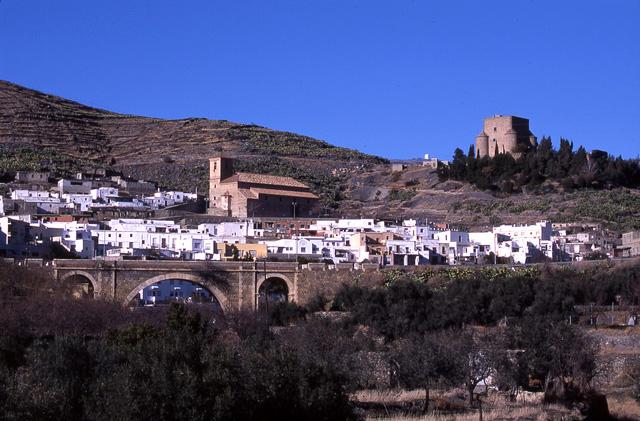 Read more
Read less
Village situated in the Sierra de los Filabres, at the side of the road that goes from Almería to Granada along the inland route. The distribution of its streets on an incline along the mountain slope, white houses with flat roofs and chimneys, the Mudejar church presiding over the village and the design of the village in itself, preserve the traces of its Arabic origins.
Dominating the village is a beautiful castle, today a private residence. The Astronomical Observatory Calar Alto is in its municipal area.
History
It was called Xergal by some accounts. Its fort was the watchtower for many years over the crossroads of the routes which communicated Fiñana with Tabernas and Almeria. A great number of its houses are made of earth and slabs of stone covered with slate.
There are tombs of saints which show us that it was a solitary land inhabited for a long time by Mozarabic and Moslem hermits. With the Christian conquest in 1489, the Catholic Monarchs gave the village of Gergal as an estate to the grand master of Santiago don Alonso de Cardenas.
In the War of the Alpujarras (1568-1570), Gergal took part in the Moorish rebellion. The governor of the village was a Moor called Francisco Portocarrero. The old Christians trusted him and after being deceived and locked up in the fort, their throats were cut. When they received the news of the imminent arrival of the Marquis of Los Velez with an army, the Moors abandoned the village. After the war, it was repopulated with people from the kingdom of Granada as ordered in the Decree issued by Felipe II.
With the XIX century came the abolition of the landed estates in 1835. Gergal joined in the cultivation of the Ohanes grape, as did many other villages of Almeria, and it meant a significant improvement for this village. At the same time, the iron mines were worked, although by foreigners. An overhead cable transported the mineral to the railway line. This prosperity lasted only a couple of decades during the XX century.
It is a matter if pride for this village that the astrophysical observatory of Calar Alto is located in its area, on the top of the mountain that bears the same name.
Eminent citizens
Sebastian Perez Garcia, King's Senator at the beginning of the century.
Gérgal
Municipio
The weather today in Gérgal
Max

17

Min

8

Max

62

Min

46
°C
°F