Centro Andaluz de Flamenco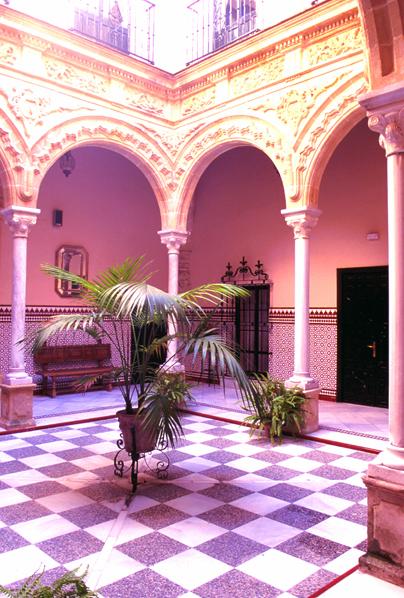 Read more
Read less
The Andalusian Flamenco Centre is located in Santiago neighbourhood, one of the most important flamenco areas of Jerez, and native land to many famous artists of this Universal Art.
The Pemartín Palace is the head office of the Andalusian Flamenco Centre. This palace was in all likelihood the property of Dña. Antonia de Villavicencio, in the second half of the 18th century (1770-1780).
The main facade is very simple in its outlines. The most decorative features are centred in the central part of the facade, principally around the main door and the balcony. Here we can find features which are characteristic of the second half of the 18th century. The main door is framed by a "baqueton mixtilineo" a common feature in the buildings of this period. The upper sections of the facades are crowned by the classic slate gables also common features of the baroque buildings in Jerez.
Perhaps the most representative feature of this palace is its baroque-rococo patio (yard). It is quadrangular and elegant. It is very layout and well proportioned along its whole system. It is surrounded by a gallery with semi-circular arches and supported by fine white marble columns. There are scultured cherubs'heads in each of the corners of these patio and over them oblique arches in worked stone settle.
The Andalusian Flamenco Centre is today the most important centre of resources of this art. It provides resources for researchers, students, and flamenco enthusiasts in general. The different resources of the CAF are found in data bases that are available to all researchers and enthusiasts of this art.
Monday to Friday from 9 am. to 2 pm. Special video showing (Previous request required): 10 am. -11 am. - 1 pm.
Services and infrastructure
Target audiences
Lgbti, Couples, I travel alone, For families, Friends, deal, Seniors, young people, Professional
Segments
Culture, Leisure and fun
Specialties
Other type of museum