Dunas de Artola o Cabopino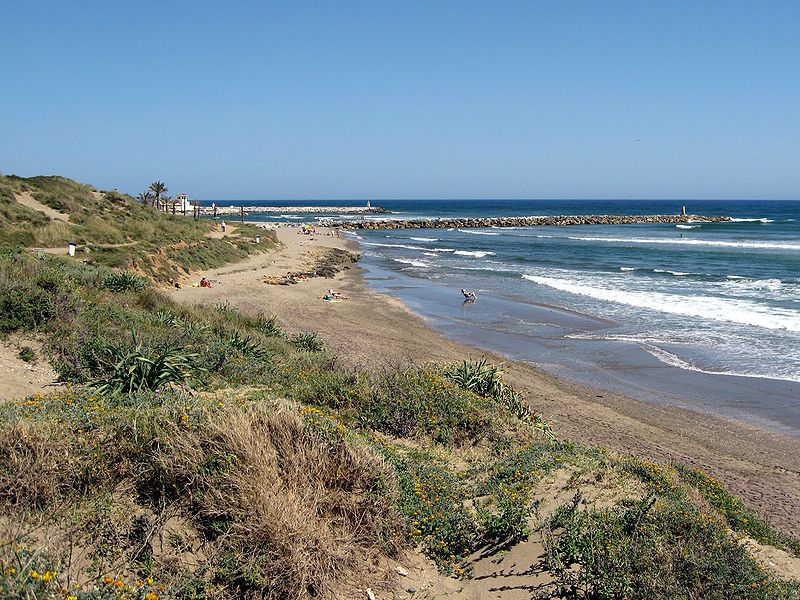 Read more
Read less
The dominant northwesterly winds and coastal currents brought a continuous flow of sand with them to form a bank of dunes reaching some twenty kilometres in length. It has now shrunk, but the Artols Dunes Natural Monument remains as witness to what this part of the Marbella coast was once like.
There are three different types of dunes visible in this privileged location. Right on the seafront there are dunes which are quite mobile, easy to distinguish because of their ripples. Further inland, acting as a barrier parallel to the coast, are the inactive mobile dunes, now covered in vegetation. Furthest inland, meanwhile, are immobile fossil dunes, covered in dense pine forest.
The dunes have interesting vegetation, adapted to withstand the strong sunlight, scarcity of water and continuous buffeting of the wind. The most common species to be found here are Marram grass and sea holly, while close to the beach you can often see the perfumed sea daffodil. Further away from the coast, shrubs such as "turbinate" juniper are common.
To discover this unique natural wealth, nothing better than a stroll amidst the dunes on one of the footpaths installed, as walking on the dunes themselves could affect their natural balance.
Los Ladrones Tower is also nearby. It is a defensive, military structure with the Cultural Property designation. It seems to date back originally to the Roman period, subsequently reconstructed by Moors and Christians.
en
Read more
Coordinates not available
Services and infrastructure
Target audiences
Couples, Friends, For families, young people, I travel alone, Seniors, Lgbti
Segments
Nature, Sun anda beach, Culture
Environmental units
The Mediterranean coast of Andalusia
Statement date
01 / 10 / 2003