Cárcavas de Marchal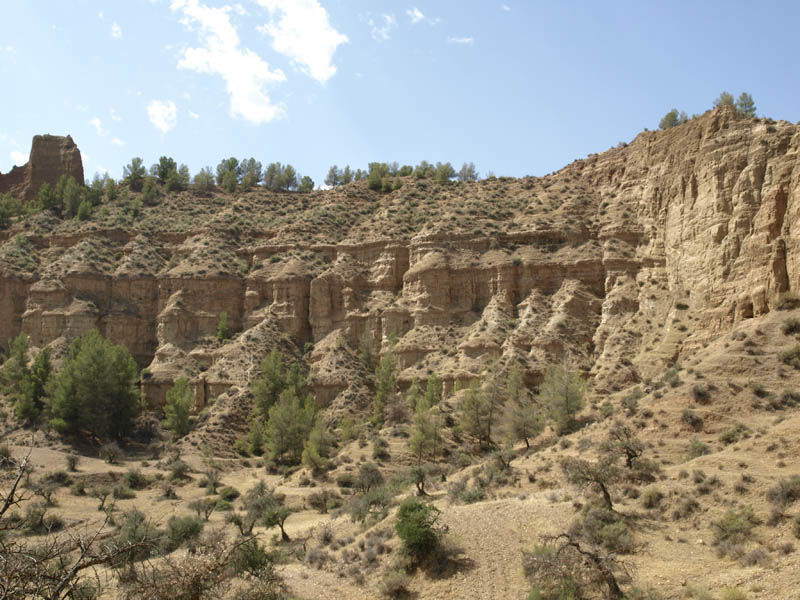 Read more
Read less
Located in the province of Granada, in the Hoya de Guadix depression and flanked by high mountain ranges that isolate it and give it a continental climate, this is a spectacular landscape of ravines known as the Marchal Gullies, set in the village of the same name.
It is a system formed by movements in the earth's plates that caused this area to sink down, giving rise to a tectonic pit. Over time, this depression gradually filled with materials, mostly soft, such as clays and silts. The scarce vegetation in the area, along with frequent torrential rains and the movement of materials they cause, gradually created a landscape of canyons, gullies and deep ditches known as "cárcavas". These strange formations in brown, ochre, green and dark tones are immensely attractive.
The landscapes are often called by the English term "badlands", as they are useless for agriculture. Nevertheless, since way back in history, people used these formations to build cave houses. The clayey nature of these materials make them highly impermeable, which also helps to maintain a constant temperature inside these houses. The inside of these houses only have one door to the exterior, and sometimes a small window to maintain optimal temperature conditions.
Services and infrastructure
Segments
Culture, Sports, Nature
Environmental units
Arid Andalusian Southeast
Statement date
01 / 10 / 2003