Cabo de Gata-Níjar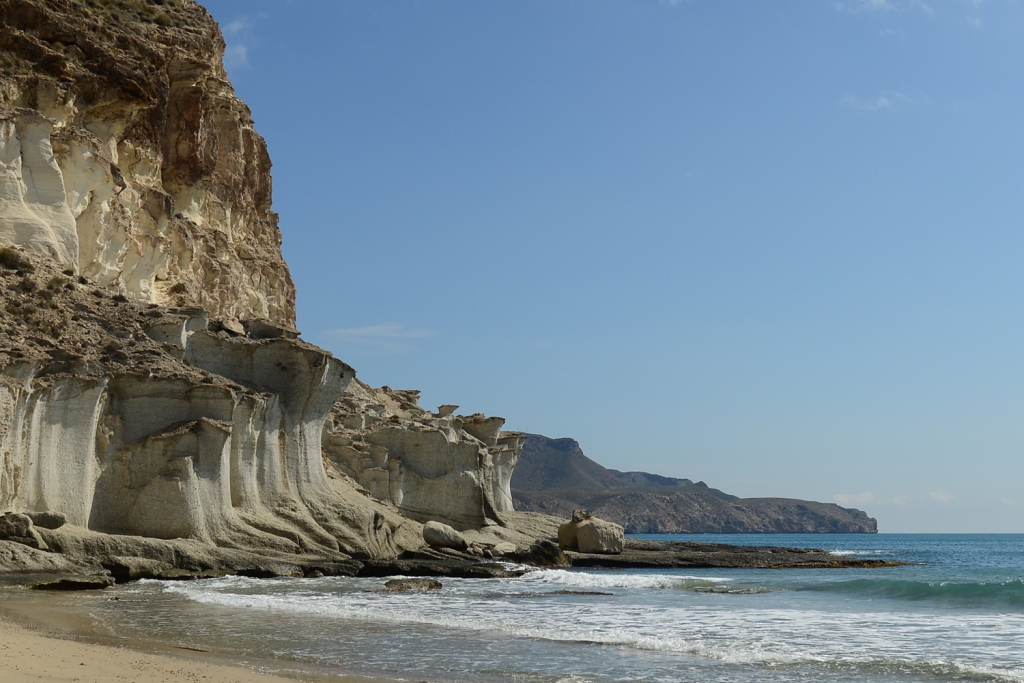 Read more
Read less
A unique climate, the volcanic origin of its soil and the diversity and uniqueness of the flora and fauna that is the fruit of the contrasts that exist between the marine, coastal and land environments, are the best letter of presentation for the Cabo de Gata Níjar geopark, the largest protected area on the Mediterranean coast.
The mountain range forms coves of great beauty that give rise to fifty kilometres of the best preserved rugged coast on the European Mediterranean. Urban beaches such as the one at San José and Aguamarga; magnificent natural beaches such as Mónsul and Los Genoveses; recondite and almost inaccessible coves such as Carnaje and Enmedio; spectacular volcanic cliffs and reefs such as Punta de los Muertos and Mesa Roldán. Excellent specimens of dune formations, both fossil ones, with white and grey sand -San Felipe de los Escullos and Las Amoladeras-, and ones in movement, which cause coastal spits that enclose lakes and create such attractive landscapes as the Salinas del Cabo de Gata, a humanised place that is exceptional for birds.
Fauna and flora
Cabo de Gata-Níjar can accommodate more than a thousand exclusive species of flora, which shows its botanical originality. On the arid plains, there are populations of wild olive trees, dwarf palms and African wolfbane, which climb the rugged volcanic slopes, dense formations of esparto grass and rosemary, which cover the plains, red date, a buckthorn with deep roots that helps to stabilise the dunes, and an excellent population of steppe birds, such as stone curlews and crested larks, which live alongside birds of prey and the snub-nosed viper. However, certainly, the most outstanding parts of this natural space are the seabeds formed by large expanses of posidonia oceanica, authentic underwater forests where a wide variety of fauna live; along with the Salinas at Cabo de Gata, an exceptional place for the reproduction, hibernation and migratory passage of water birds. The latter houses such an emblematic species as the pink flamingo, as well as numerous waders. Other sites of interest are the nearby Rambla Morales saltwater lagoon, where you can see over eighty species of birds, or the natural monument of Isla de San Andrés, opposite the beaches of Carboneras.
en
Read more
Coordinates not available
Services and infrastructure
Botanical Garden
Tourist Office
Segments
Sports, Leisure and fun, Culture, Nature, Sun anda beach
Type of activity
Sailing, Diving, Climbing, Water skiing, Orienteering, Multi-adventure activities, Mountaineering, Kitesurfing, Kayaking, Surfing, Hiking, Biking, Caving, Free Flying, Off-road vehicles, Horse riding
Quality brands
-, European Charter for Sustainable Tourism
Environmental units
The Mediterranean coast of Andalusia
Statement date
27 / 01 / 1988