The White Villages (Los pueblos blancos). Cadiz and Malaga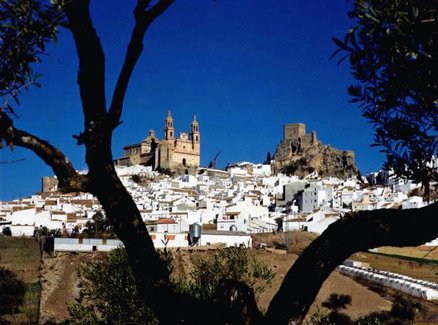 Read more
Read less
Situated on an arc which extends from the Atlantic to the Mediterranean, in an area characterised by the last foothills of the Bético system (the Sierras of Cadiz and Ronda), the White Villages constitute one of the archetypal routes of popular Andalusian architecture.
The omnipresent lime and their commanding positions - on hills and mountainsides or in gorges - make these villages appear as round white blotches on a landscape dominated by pine trees, holm oaks, cork oaks and, a true botanical rarity, Spanish firs.
The fact that they were "frontier villages" in the secular struggle between Moors and Christians explains the profusion of castles and the Muslim influence. This, together with their characteristics as mountain villages, marks many features of their popular architecture: steep, narrow, winding streets, alleyways affording access to the houses or patios, arches across the narrow roads propping up the facades. There is also a predominance of tiled roofs.
en
Read more
Itineraries
The White Villages (Los pueblos blancos). Cadiz and Malaga - 1
Difficulty Medium
A Arcos de la Frontera
B Medina-Sidonia
C Vejer de la Frontera
The White Villages (Los pueblos blancos). Cadiz and Malaga - 2
Difficulty Medium
A Casares
B Castellar de la Frontera
C Jimena de la Frontera
D Gaucín
E Algatocín
F Benalauría
G Benadalid
H Atajate
I Ronda
The White Villages (Los pueblos blancos). Cadiz and Malaga - 3
Difficulty Medium
A Arcos de la Frontera
B Grazalema
C Bosque, El
D Zahara
E Olvera
F Setenil de las Bodegas
G Benaoján
H Ronda
The White Villages (Los pueblos blancos). Cadiz and Malaga
Services and infrastructure
Specialties
Route of popular architecture