Route Wines and wineries Serranía de Ronda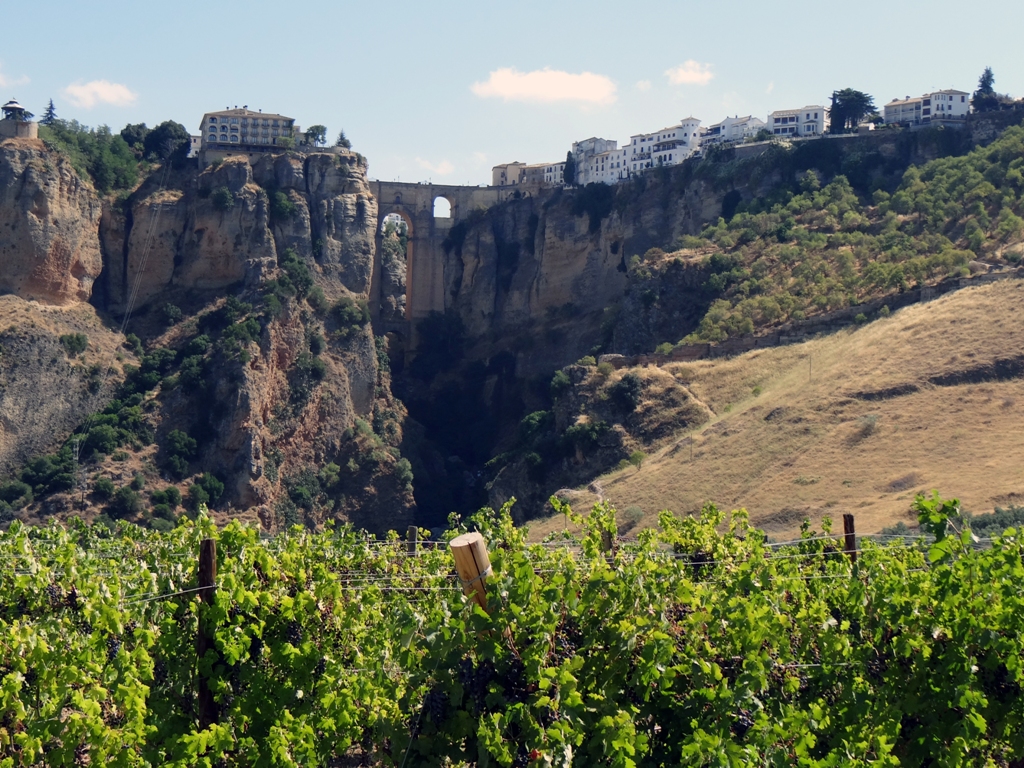 Read more
Read less
Sheltered by rugged mountains and forests of holm oak, gall oak and cork, the vines of these mountains in the south of Malaga province are dotted over the hills amid a majestic Mediterranean landscape. The age-old labours of wine-making in these lands now shapes the fabulous Wine Route and Wineries of the Serranía de Ronda Mountains which, situated as it is between the municipalities of Ronda, Arriate and Gaucín, is surrounded by outstanding natural spaces such as Grazalema and Sierra de las Nieves, Biosphere Reserve, as well as Los Alcornocales cork groves.
Influenced by the proximity of the Mediterranean and Atlantic, the Serranía de Ronda mountains enjoy many and varied microclimates which, together with the area's geological diversity, gives the region's wines their unique nature. The wine produced along the route pertains to the "Málaga. Sierras de Málaga" D.O. (Protected Designation of Origin).
Like Ronda itself, the local red and white wines are monumental, patient and tranquil, generally with a fruity bouquet which is attenuated in the aged wines, imbuing them with complexity and their own unique aromas. On the palate, they are full-bodied wines with a deep lingering flavour, all the richer and more unctuous when left to mature.
The white wines have a yellow, almost straw-like colour with hints of green, turning more golden with ageing. The red wines range from a reddish violet, through to a deep ruby red when well-aged. Finally, the rosé wines range from light to reddish pink.
You can enjoy the experience of strolling through vineyards accompanied by wine experts, take advanced or beginners wine tasting courses, try wine tastings combined with local gastronomic delights, indulge yourself in relaxing wine therapy treatments, or go to a moonlight concert in our own vineyards accompanied by a fine Ronda wine.
The Route of the Wineries and Wines of the Serranía de Ronda encompasses 16 wineries, which all welcome visitors. Alongside these, you can visit the Wine Interpretation Centre and very soon the Integral Wine Centre, a space conceived for education, interpretation and visitors, which has enabled the recovery of the city's old water supply tanks (19th century). You can also enjoy all kinds of tourist services through a large number of partner companies and establishments: charming accommodation where you will feel right at home, both in the city and in the country, restaurants, wine vintners, wine and tapas bars where you can have true gastronomic experiences, specialised shops, travel agencies, tourist guides and superb wine-therapy services, while enjoying spectacular sunsets at the famous Tajo de Ronda gorge.
en
Read more
Itineraries
Route Wines and wineries Serranía de Ronda - 1
A Casa Rural Casa de Campo Los Pastores
B Hotel El Poeta de Ronda
C Hotel San Gabriel
D Hotel Spa Cortijo Salinas
E Hotel Catalonia Reina Victoria
F Hotel Maestranza
G Hotel El Horcajo
H Hotel Parador de Ronda
Route Wines and wineries Serranía de Ronda - 2
A Almocábar
B Mesón El Coto Alto
C Pedro Romero
D Mesón El Sacristán
E Bar Siempre Igual
F Enoteca Vinoteando
G Parador de Ronda
Route Wines and wineries Serranía de Ronda - 3
A Bodega García Hidalgo
B Bodega Kieninger
C Bodegas Lunares-Los Bujeos
D Bodega Los Frutales - Joaquín Fernández
E Bodegas Cortijo Morosanto
F Bodega La Melonera
G Bodega Vetas
H Bodegas Viloria
Route Wines and wineries Serranía de Ronda - 4
Route Wines and wineries Serranía de Ronda - 5
A Bodega Cortijo Los Aguilares
B Cezar Viñedos y Bodega
C Bodegas Conrad
D Bodega Cuesta de la Viña
E Bodega Descalzos Viejos
F Bodega Doña Felisa
G Bodegas Excelencia
H Bodegas F. Schatz
Route Wines and wineries Serranía de Ronda - 6
A Milamores
B La Casa del Jamón
C Ascari Race Resort
D Centro de Interpretación del Vino
E Baiti Ronda
F Ronda tourist office
G Centro Integral del Vino Serranía de Ronda
H Reservatauro
Services and infrastructure
Target audiences
young people, Friends, Lgbti, For families, Couples, Seniors, deal, Professional, I travel alone
Segments
Meetings and Congresses, Leisure and fun, Gastronomy, Nature, Culture
Season
Summer, Spring, Winter, Autumn