Sulayr Trail - GR 240.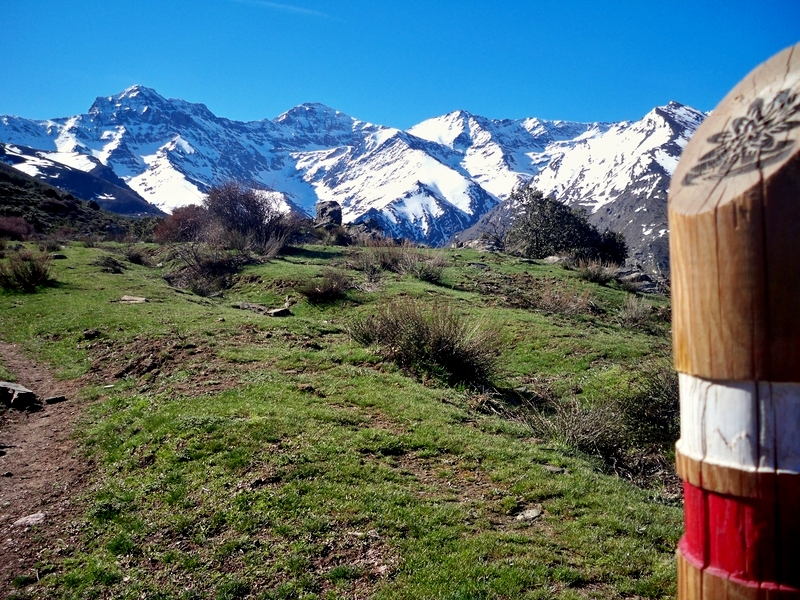 Read more
Read less
Sulayr —the mountain of the sun— is what the Arabs call Sierra Nevada and it is the name chosen for the longest circular trail in Spain. The 300-km loop through the Sierra Nevada National Park and the Sierra Nevada Natural Park is divided up into 19 stages where you will discover the beauty and uniqueness of its scenery and its villages. The paths, lanes and livestock trails along which it runs are connected with other facilities for public use, such as the El Dornajo Visitor Centre or the La Cortijuela Botanical Garden, which will allow you to further your knowledge of the area.
Sulayr is built around the basic network of paths in Sierra Nevada and, beyond utilitarian concepts, it is a symbol of union, of alliance between a Natural Park and a National Park, of a meeting of two provinces, six regions and sixty municipalities, of an encounter between man and mountain.
Type of Trail: Circular Trail status: Approved and signposted in 2008. Total Length: 300 km Average height: 1,800 metres Estimated duration: 15–19 days Stages: 19 Topographic guide published by: "Editorial Penibética S.L" Maps: "Editorial Penibética S.L." Connection with other trails: At the La Ragua mountain pass, the GR 140 overlaps the GR 7 (E-4 European trail) until it reaches Bayárcal, where you can continue on to Laroles in the province of Granada.
en
Read more
Itineraries
Sulayr Trail - GR 240. - 1
Difficulty Medium
A Dúrcal
B Lanjarón
C Lecrín
D Nigüelas
E Padul
Sulayr Trail - GR 240. - 2
Difficulty Medium
A Dílar
B Dólar
C Gójar
D Zubia, La
E Nigüelas
Sulayr Trail - GR 240. - 3
Difficulty Medium - Low
A Cáñar
B Lanjarón
C Carataunas
D Soportújar
E Órgiva
Sulayr Trail - GR 240. - 4
Sulayr Trail - GR 240. - 5
Difficulty Medium - High
A Bérchules
B Juviles
C Trevélez
D Cástaras
Sulayr Trail - GR 240. - 6
Difficulty Medium
A Alpujarra de la Sierra
B Válor
Sulayr Trail - GR 240. - 7
Difficulty Medium - High
A Taha, La
B Pórtugos
C Capileira
D Trevélez
E Bubión
F Pampaneira
G Busquístar
Sulayr Trail - GR 240. - 8
Difficulty Medium - Low
A Paterna del Río
B Laujar de Andarax
C Fondón
Sulayr Trail - GR 240. - 9
Difficulty Medium - High
A Beires
B Laujar de Andarax
C Ohanes
D Alboloduy
E Alhabia
F Almócita
G Alsodux
H Canjáyar
I Bentarique
J Fondón
K Illar
L Instinción
M Padules
N Rágol
à Santa Cruz de Marchena
' Terque
Sulayr Trail - GR 240. - 10
Sulayr Trail - GR 240. - 11
Difficulty Medium
A Fiñana
B Huéneja
C Dólar
Sulayr Trail - GR 240. - 12
Difficulty High
A Güéjar Sierra
B Cogollos de Guadix
C Lugros
D Jerez del Marquesado
Sulayr Trail - GR 240. - 13
Difficulty Medium - Low
A Cáñar
B Capileira
C Soportújar
D Carataunas
E Órgiva
F Bubión
G Pampaneira
Sulayr Trail - GR 240. - 14
Difficulty Medium - High
A Cogollos de Guadix
B Jerez del Marquesado
C Lanteira
D Aldeire
Sulayr Trail - GR 240. - 15
Sulayr Trail - GR 240. - 16
Difficulty Low
A Monachil
B Güéjar Sierra
Sulayr Trail - GR 240. - 17
Difficulty Medium - Low
A Ohanes
B Abla
C Abrucena
D Tres Villas, Las
E Alboloduy
F Alhabia
G Alsodux
H Bentarique
I Canjáyar
J Illar
K Instinción
L Nacimiento
M Rágol
N Santa Cruz de Marchena
à Terque
Sulayr Trail - GR 240. - 18
Difficulty Medium
A Aldeire
B Calahorra, La
C Ferreira
Sulayr Trail - GR 240. - 19
Difficulty Medium - Low
A Gójar
B Monachil
C Zubia, La
D Dílar
Services and infrastructure
Target audiences
For families, Lgbti, Friends, Seniors, young people
Season
Autumn, Summer, Spring