Vía Verde de la Sierra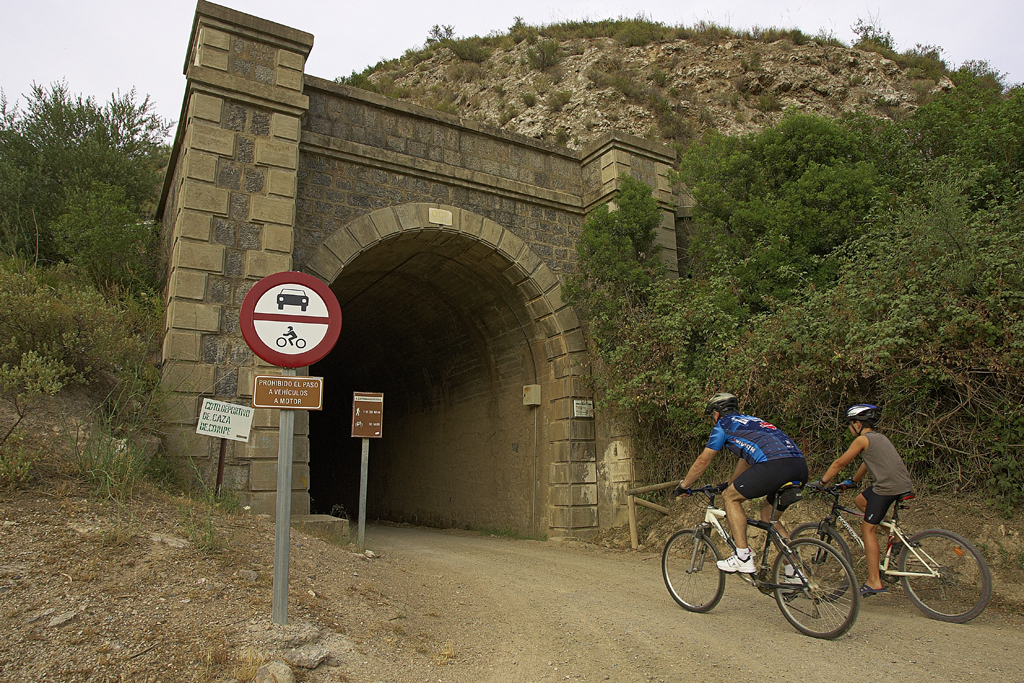 Read more
Read less
La Vía Verde de la Sierra, where trains have never passed, runs for 36 km at the foot of the southernmost mountains of Spain, between the Cadiz towns of Olvera and Puerto Serrano, and in between the Seville town of Coripe.
The route starts at the old Olvera Station, the Visitor Centre "Vía Verde de la Sierra", you can discover, with pleasant and interactively, all the highlights of the surroundings, and enjoy the sensations that the projection in 4D transmits on the route.
The natural landscape that crosses the Vía Verde, amongst illuminated tunnels and viaducts which are "hanging" and create surprising balconies, is mainly dominated by the influence of the Guadalete and Gaudalporcún rivers, and in the highest part, the Gaudamanilriver. It passes through areas as spectacular as the Peñón de Zaframagón the largest vulture reserve in Andalusia and one of the most populated in Europe.
Further on, the Vía reaches another of the recommended accesses, the Coripe Station, ending in the Puerto Serrano Station, which stands on a cliff overlooking the valley of Guadalete.
TheVía Verde de la Sierra is a tourism and environmental resources of great value, which enables visitors and travellers to immerse themselves in the wealth of the cultural and natural heritage of the areas it passes through, offering a wide range of sports, educational, tourism and environmental activities .
Managing Body: Vía Verde de la Sierra Foundation Type of surface: * Puerto Serrano-Coripe (15 kms) / Navalagrulla-Olvera (10 kms): Slight tarmac distribution. * Coripe-Navalagrulla (13 kms): Compact ground. Total length: 36 km. Accessibility: It can be done on foot, by mountain bike, horseback and in wheelchairs (suitable with two downward slopes). Infrastructures: 30 tunnels, 4 metal viaducts and 5 stations. Download Brochure Cartographic information: Military map of Spain. Scale 1:50.000: Pages 1035, 1036 and 1049. Official Road Map. Ministry of Development.
en
Read more
Itineraries
Vía Verde de la Sierra - 1
Difficulty Medium - Low
A Puerto Serrano
B Coripe
C Olvera
D Zaframagón
E Hostal La Estación de Coripe
F Olvera
G Estación Vía Verde
Services and infrastructure
Accessible for handicapped
Facilities for Disabled
Tourist Office
Target audiences
young people, Lgbti, Friends, I travel alone, For families, Couples, Seniors
Type of activity
Off-road vehicles, Multi-adventure activities, Biking, Kayaking, Horse riding, Hiking, Hot air ballooning, Free Flying, Climbing
Specialties
"Vías verdes" (green-ways)
Season
Spring, Summer, Winter, Autumn