Seville Cathedral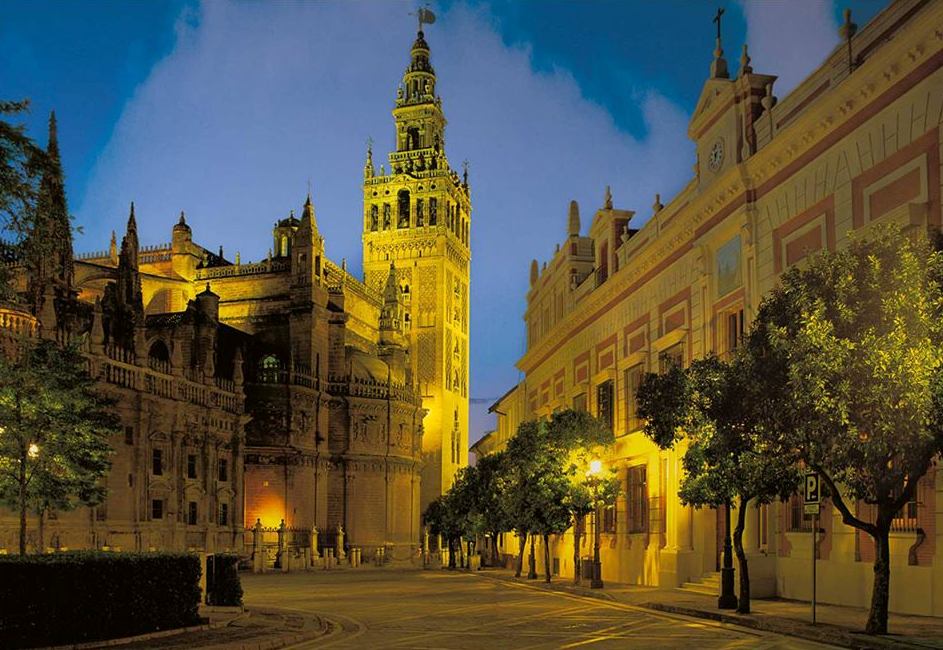 Read more
Read less
At the end of the 12th century, Caliph Abu Yuqub Yusuf ordered the construction of the city's mosque, and then he erected the minaret that would later on become the famous Giralda.
In 1248, Ferdinand III of Castile conquered the city for the Christians and the city's mosque became the Church of Santa María de la Sede and city cathedral. Over the centuries, both the Giralda and the cathedral have been modified and extended several times.
Today, Seville Cathedral is the largest Gothic church in the world. In addition to the Giralda, the Patio de los Naranjos courtyard was also built when it was a mosque. Seville Cathedral has 10 doors; Puerta de la Asunción (Door of Assumption) is the main door, and Puerta del Perdón (Door of Forgiveness), is the oldest door and the only one that still remains from the old Almohad mosque. The Cathedral has five naves inside: the highest ones are the central one (36 metres) and the one with the crossing (40 metres). There are numerous chapels and altars, and one of the most spectacular ones is the Royal Chapel, where we can find the image of the Virgen de los Reyes, patron saint of the city. Several monarchs are also buried here. Fernando III, his wife Beatriz de Suabia, Alfonso X "The Wise", and Peter I "The Cruel", for example.
The main altarpiece is the largest in Christendom. It is a gigantic work of art enclosed by railings. Made of polychrome wood, it features a set of 44 reliefs and over 200 figures of saints. Its surface is close to 400 square metres. The Cathedral also contains the tomb of Christopher Columbus. It has a very rich artistic heritage, and it is considered one of the best art galleries in Spain. Here we can see some of Murillo's works, like the Portrait of Saint Ferdinand, The Baptism of Christ and The Immaculate; Goya's Saints Justa and Rufina, and other works by Alonso Cano, Francisco Herrera el Mozo and Luis de Morales, to name a few. As for sculptures, there are works by Pedro Roldán, Alonso Martínez, Juan de Mesa and Martínez Montañés. In 1603, the latter made the Christ of Mercy or of the Chalices, a Sevillian Baroque masterpiece, for the Cartuja Monastery, but it was later placed in the Cathedral, where we can still find it today. One of the numerous precious metalwork items that can be found here is the monstrance by Juan de Arfe (1580).
General Visits: From Monday to Saturday from 10:45 am. to 4:40 pm. Sundays from 2:30 to 5:45 pm. Optional visits: €21* (€20 online) (access through Puerta de San Miguel) Guided Cathedral: From Monday to Saturday. Covers: Every day.
Cathedral, Giralda and Collegiate Church of El Salvador: €12 (€11 online) Audioguide: €5 Pensioners =< 65 and students =< 25 years: €7 (€6 online) Only Schoolboy from El Salvador: €5 Advance sale*. (access through Puerta del Lagarto) *Online management fees, €1 per ticket Sale at the box office. (access through Puerta del Príncipe) Free: national unemployed, =< 13 years, residents or born in Seville and province, disabled (> 65%) showing supporting document and Thursday (2:45 p.m. prior online reservation)
Services and infrastructure
Accessible for handicapped
Facilities for Disabled
Historic building
Shopping area
Duration
1 hora 30 minutos