Metropol Parasol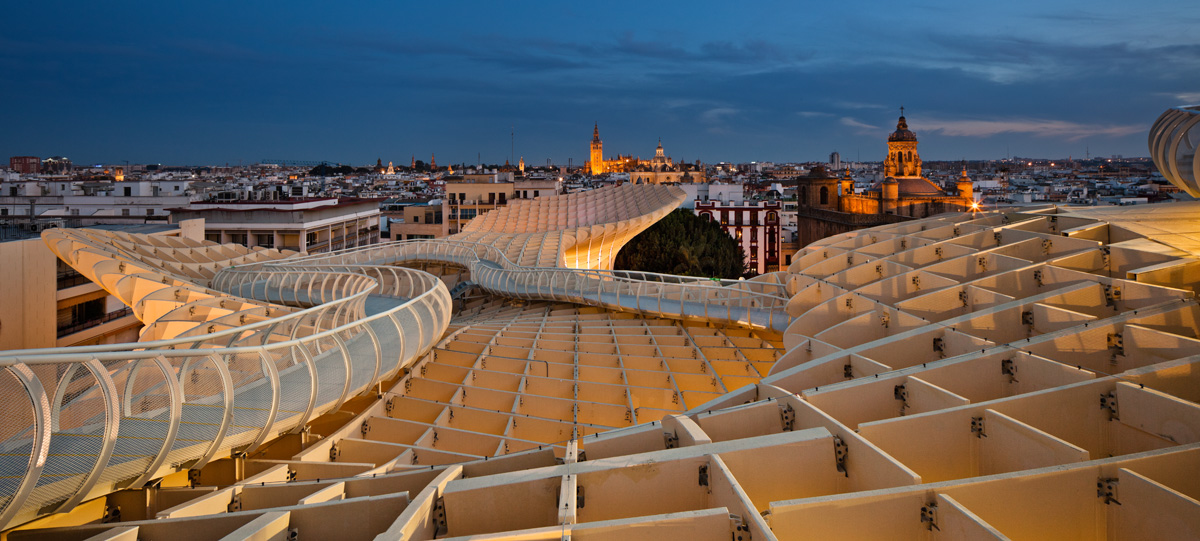 Read more
Read less
The Metropol Parasol, locally known as the Mushrooms of La Encarnación or Seville, is the largest wooden structure in the world, with 2 concrete columns housing lifts taking visitors to the viewing point. It is located in Seville's central La Encarnación square. The structure measures 150 x 70 metres and is about 29 metres high. It was the winning project in an open competition organised by Seville's Council for restoration of the square. It was designed by the architect Jürgen Mayer, from Berlin.
The structure features six parasols in the form of giant mushroom. The design was inspired by the vaults of Seville cathedral and the fig trees in the nearby Cristo de Burgos square. It has five levels. At the top there is a viewing point and a panoramic path that takes visitors around most of the structure. Inside the central parasols, which rise 21 metres, there is an area for tapas and an area for events. Under the parasols there is a raised area, the shaded Plaza Mayor, which is open to the sky and used for events of different types. The La Encarnación market and shops and cafes are to be found at ground level.
Finally, the Antiquarium museum is located under the square, displaying the architectural remains found in the area. This Antiquarium was designed by the Seville architect Felipe González Palomino, who worked on all aspects of the main project.
Access to the viewing point is from the underground floor, next to the entrance to the Antiquarium.
Viewing point and walkways: Sunday to Thursday, 10:00 am to 10:30 pm. Friday and Saturday, from 10:00 am to 11:00 pm. The ticket office closes 30 minutes before closing time.
General admission: €3 (including a drink). Free admission: people born or resident in the city of Seville, disabled persons and their companions, school groups up to 16 and children under 12 (check for other groups).
Services and infrastructure
Accessible for handicapped
Bar
Facilities for Disabled
Shopping area
Target audiences
Couples, Lgbti, Friends, I travel alone, Seniors, young people, For families
Segments
Leisure and fun, Culture