Museo Arqueológico de Sevilla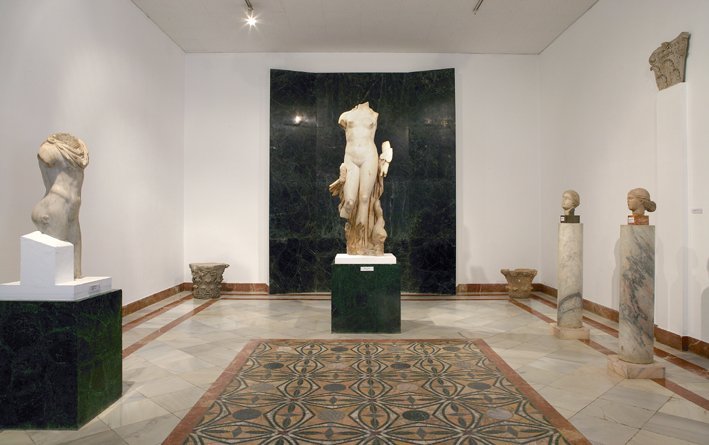 Read more
Read less
The Archaeological Museum of Seville dates back to the end of the 19th century, with the management of a public collection of antiquities, mostly from the Roman city of Italica It was not until the middle of the following century that it was consolidated and enlarged when it was moved from the convent of La Merced to its current site: the "Pabellón de Bellas Artes" (fine arts pavilion) designed by Aníbal González for the Ibero-American Exposition of 1929, granted by the Seville City Council.
The Archaeological Museum of Seville has three floors:
In the basement, there are ten rooms open to the public with an exhibition of material testimonies of the different societies that existed in the region of the modern province of Seville, throughout Prehistory and Protohistory.
The eighteen rooms on the ground floor relate to the Roman Era, Late Antiquity and the Middle Ages and end at the Early Modern Period.
Upstairs is the library, the temporary exhibition rooms, the meeting room and the internal work areas: management, administration, research, conservation, restoration and dissemination.
Main collections: Prehistory, Protohistory, including the Late Bronze Era, with examples of Phoenician and Tartessian cultures. Roman collections, mostly from Italica, with a significant collection of statues from the times of Hadrian. It has Medieval, Islamic and Visigothic pieces.
Currently, there is a monographic room for the treasure of El Carambolo on the first floor.
Services and infrastructure
Accessible for handicapped
Facilities for Disabled
Historic building
Parking
Target audiences
For families, Seniors, Friends, Couples, Professional, young people, Lgbti, I travel alone, deal
Specialties
Other type of museum, Archaelogy