Palacio de San Telmo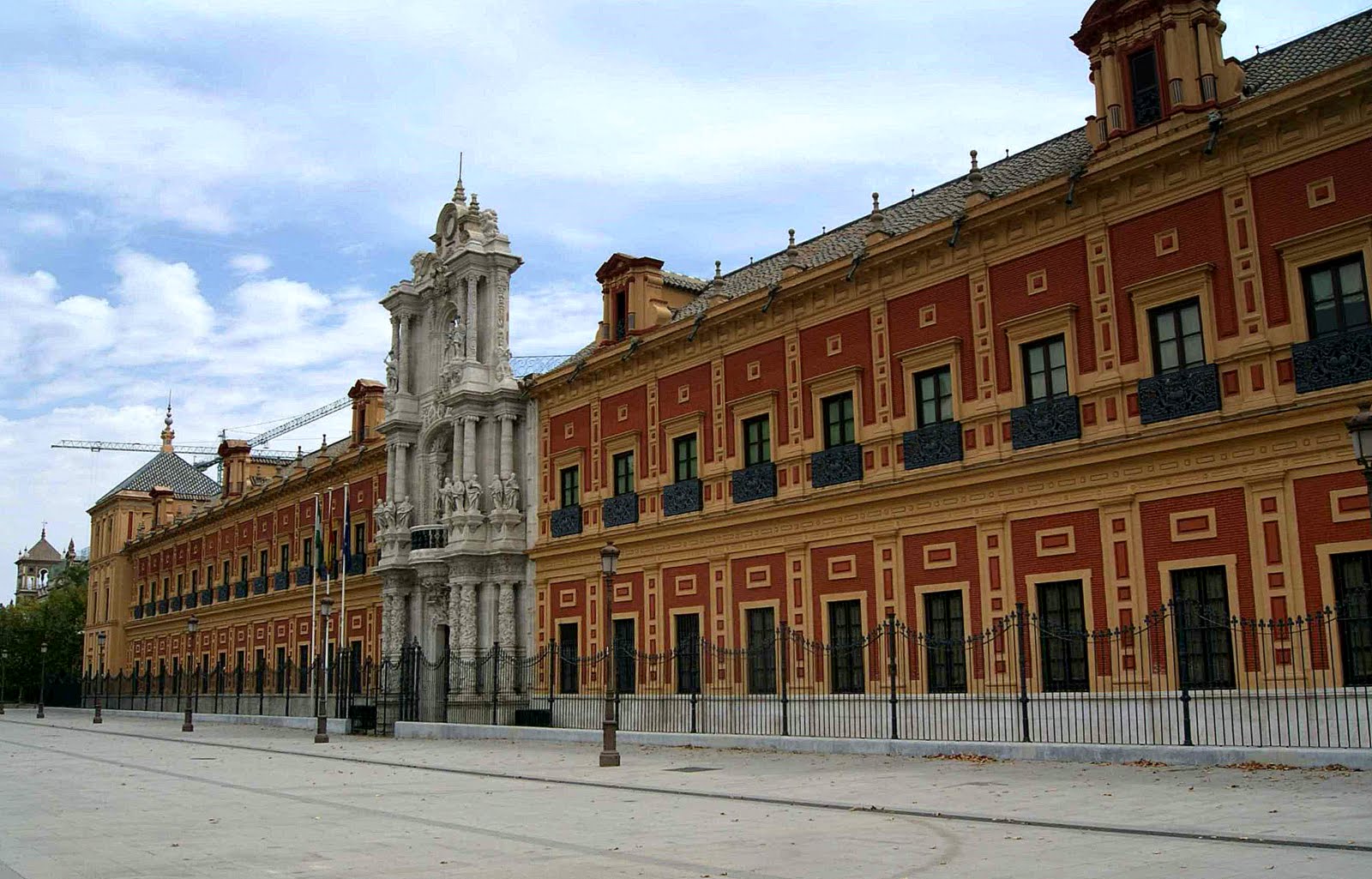 Read more
Read less
The San Telmo Palace was built in 1682 to house the Seminary of the Mareantes University. In 1849 it became the residence of the Dukes of Montpensier, who undertook major renovation work, including completing the north tower and building the mounting block entrance hall, the east wing and the ballroom. The new rooms are stuccoed and were gilded by Pelli and Rossi, whilst the walls are hung with paintings from the Vista Alegre Palace. The ballroom ceilings were decorated by Rafael Tejeo.
This is one of the most beautiful buildings in Seville. It has a rectangular floor plan with four towers and a large central courtyard. Especially noteworthy are the 18th-century portal by Leonardo de Figueroa and the side façade, with its sculptures of illustrious figures from Seville by Antonio Susillo.
The Palace had running water, bathrooms, electricity, telegraph, a private jetty giving access to the Guadalquivir, and gardens in the style of Versailles, covering more than eighteen hectares: these gardens subsequently became the María Luisa park.
The chapel of the San Telmo Palace is a jewel of Andalusian and Spanish art. It has a single nave with a barrel vault and five altarpieces: the main altar, dedicated to the Virgen del Buen Aire, two on the Epistle side, dedicated to Saint Thomas Aquinas and San Antonio, and two on the Gospel side, featuring a Crucifixion and Saint John.
Maria Luisa Fernanda donated the palace to the Archbishopric on her death in 1897. In 1901 it became a Diocesan Seminary. During this period, a number of important changes were made, particularly in the southern wing and the mounting block courtyard. It has belonged to the Regional Government of Andalusia since 1989, which has refurbished several areas and returned it to its status as a palace, converting it in 1992 into the seat of its Presidency.
Visits by prior appointment on Thursday, Saturday and Sunday.
The Council of the Presidency and local government reserves the right to cancel a visit or close some of the rooms in the event of a formal activity or because of events outside their control, in which case they will send notification of this to the details given in the prior reservation. Bags are not allowed. There is no cloakroom facility. Some rooms cannot be entered with pointed heels.
Palacio de San Telmo
Avenida de Roma, s/n, 41004
Services and infrastructure
Accessible for handicapped
Facilities for Disabled
Historic building
Target audiences
Seniors, For families, Couples, I travel alone, Friends, young people, Lgbti