Real Alcázar de Sevilla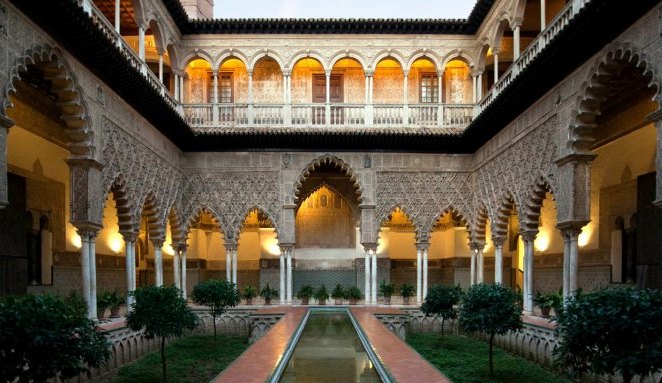 Read more
Read less
Located in the heart of Seville, the Real Alcazar is one of the oldest palaces still in use in the world. The palace has evolved through different stages over time, from the late 11th century to the present day. From its walls we can appreciate the influence of the cultures that have passed through the city.
This palace-fortress was commissioned by Abd Al Raman III, it is intricately formed of exquisite rooms decorated with plasterwork, tiling and coffered ceilings, which combine perfectly with the magnificent gardens and use of water to create an unforgettable impression.
Highlights of the palace include the Patio de las Doncellas courtyard, with its beautiful tiled plinths, and the Patio de las Muñecas courtyard, with its fascinating collection of capitals.
The artistic heritage of Seville's Alcazar was enriched by magnificent contributions in the renaissance periods, such as the spectacular tiled altar made in 1504 by Francisco Niculoso Pisano and the painted altarpiece in the Almirante room, dedicated to the Virgin of Sailors. This Renaissance splendour also shines through in the rooms of Carlos V, while the interior rooms display magnificent collections of tapestries show Carlos V conquering Tunisia.
In the 19th century, the Borbon monarchs also left their mark on the Alcazar, adding spaces in the top floor of the building, where old rooms were refurbished and decorated with tapestries, crystal lamps from La Granja, clocks, furniture and an outstanding collection of paintings.
Advance ticket sales at http://www.alcazarsevilla.org/
General admission: €9.50 (includes visit to the Antiquarium). Audioguide: 5€. Retired persons and students up to 25 years old: €2 (providing proof at the box office). Free admission: children under 16 years old, people born in and residents of Seville, disabled persons and Monday from 4:00 pm to 5:00 pm. (providing proof at the box office).
Everyday from 9:00 am to 5:00 pm. Optional visit to the Cuarto Real Alto, from 10:00 am to 1:30 pm.
Services and infrastructure
Accessible for handicapped
Historic building