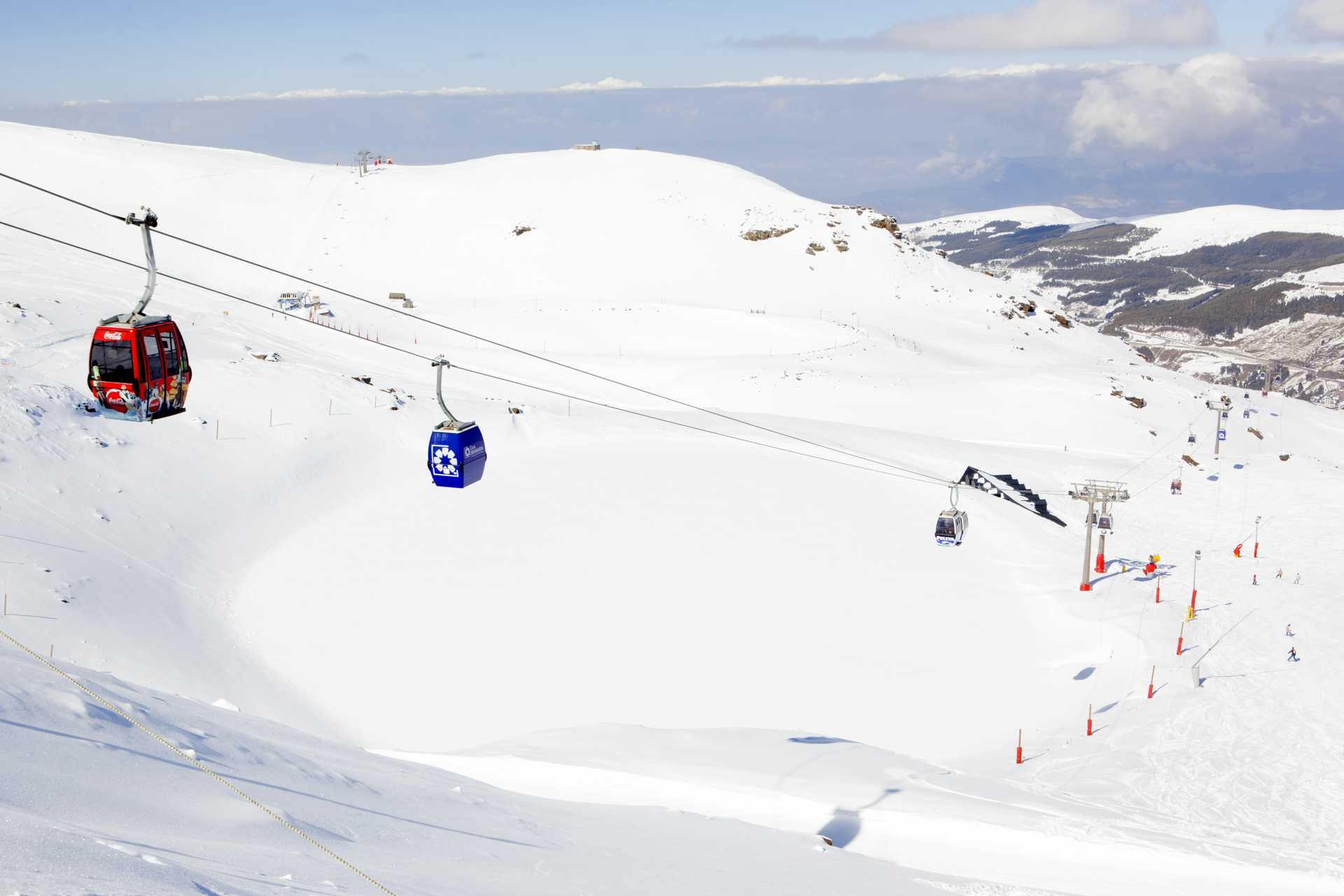 Activities in the snow
Sierra Nevada offers much more than simply descending slopes.
First tracks
This activity allows skiers to experience new sensations, by "opening slopes" early in the morning, laying down the slopes' first tracks. This activity is available on sunday.

The ascent is at 7:30 from the Jara and Monachil lift.
Parallell Slalom
This activity is ideal for any skier already able to use a beginners slope. This gives a similar experience to that felt by a professional racer in this sport. To make the descent more fun, you can do it at the same time as a partner, because there are two parallel slopes, one red and one blue, to ski at the same time. You can see who is better when it comes to negotiating a slalom, and make your own bets.

Price included in the ski pass.
Guided ski routes
If you can already ski, then you are ready to get to know our mountain and the limits of the Sierra Nevada National Park, and find out how to get around the resort's 120 km of marked piste. We teach you to ski these slopes in the easiest, safest way. All on the longest continuous descents on the Iberian Peninsula.
Snowshoe Excursion
Night route on snow groomer
An unforgettable experience! Don't miss the chance to go up El Veleta (3,470 m above sea level), close to the ceiling of the peninsula. The snow groomer route begins at Pradollano and goes to Mount Veleta, from where there are spectacular night views of Granada, towns along the Costa Tropical and the Almeria coast. At the top, we will share a small appetiser and, with our strength renewed, we will begin the descent. The activity lasts about 2 hours and it can be done on Fridays and Saturdays. The departure time will depend on sunset (it may be possible to do this on other days, check first for availability).
Groups: minimum 8 and maximum 12 people.
Booking must be made at the Sierra Nevada Club Agency
*The excursion may be cancelled in case of poor visibility.*
Europe's highest dinner
If you want to enjoy an excellent moonlit dinner, don't miss the chance to enjoy the wide range of food and drink on offer at the Restaurante Alcazaba. Located in Borreguiles (at 2700 metres above sea level), it is a welcoming space, with excellent interior design. It offers diners a range of set menus they can enjoy on the sun terrace with great views of El Veleta and the slopes.
Dine under the stars, look out the windows onto the snow...
You can enjoy it on those Saturdays when there is night skiing, from 20:30 to 22:30.
Ascent by cable car: 20:00, descending with the last night skiing cable car, on a snow groomer or skiing.
Groups: minimum 50 people. Possibility of fewer diners, check availability and prices.
Address: next to the Borreguiles building. Ground Floor.