Torre del Oro - Museo Marítimo de Sevilla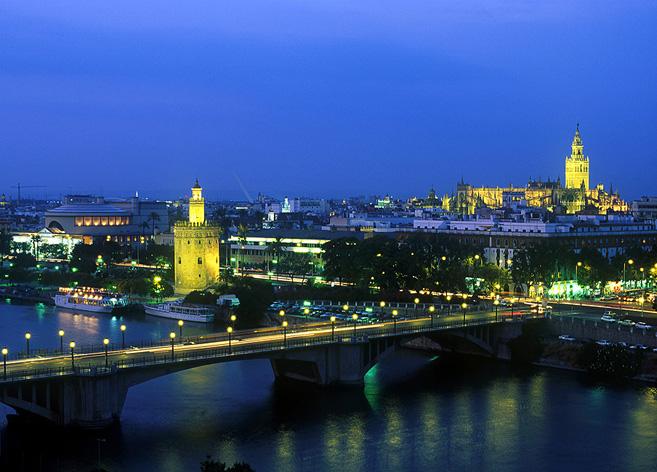 Read more
Read less
The Torre del Oro - Maritime Museum of Seville is a defensive tower dating from the 13th century, from which a thick chain extended to the far bank of the river, cutting off access to enemy ships.
The tower is 36 metres high and stands on the left bank of the Guadalquivir River. It has three sections, the first two of which are dodecagonal: the first of these was built by the Almohads, while the second was built by Pedro I, "the Cruel". The third section is cylindrical and topped with a dome. This dates from the 18th century. The tower defended the river entrance to the Barcas bridge and land access to the Arenal, home of industrial activity. The tower was linked to the Torre de la Plata through sections of wall known as "coracha", which also stretched to Seville's Alcazar.
The Torre del Oro now houses a small but interesting naval museum. The museum has two floors of exhibits and a panoramic terrace. Prior to being converted into a museum, the monument was used as a chapel, a prison for noblemen, a gunpowder store, and the offices of the Port authorities and the Naval Command.
Along with the Giralda, it is one of the most representative symbols of Seville. It was designated a historic-artistic monument in 1931.
Tickets: 3 € Children over 6 years, students and retired people: 1,50 € Monday: Free Entrance.
Audioguides: Spanish, French, English, German and Italian Guided tours for groups: apply by e-mail.
Monday to Friday from 9:30 am. to 6:45 pm. Saturday and Sunday from 10:30 am. to 6:45 pm. Bank Holidays, closed.
Services and infrastructure
Historic building
Shopping area
Target audiences
Seniors, Couples, For families, I travel alone, young people, Lgbti, Friends
Specialties
Other Monuments or patrimonial Elements (Monuments), Other type of museum (Museum)