Monasterio de la Encarnación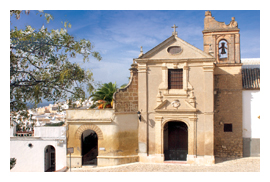 Leer más
Leer menos
El Monasterio de la Encarnación, antiguo hospital rehabilitado por la Orden Mercedaria en 1.626, dispone de una interesante colección de Arte Sacro.
Las salas de exposición del Monasterio de la Encarnación se distribuyen en torno a un patio porticado con espléndidos azulejos sevillanos del s. XVIII, destacando también su retablo mayor de 1.724. En él se encuentran imágenes como la del Cristo de la Misericordia del s.XVI, la Dolorosa de Francisco Meneses y una magnífica colección de Niños Jesús del s.XVII al XVIII.
Aunque está abierta a visitas turísticas, se trata de un convento de clausura.
Martes a domingo: Horario de invierno (15 Septiembre - 15 Junio): Visitas guiadas de martes a domingo: 10.00h a 14.30h y de 16.00h a 18.00h Horario de verano (16 Junio- 14 Septiembre): Visitas guiadas De martes a domingo: 9:30h- 14:30h Jueves: 19:00 – 21:00h
General: 3,50 € Bono turístico (Se puede adquirir en cualquiera de los monumentos citados salvo en el Monastery of the Incarnation) Bono turístico individual: 14 € Incluye 6 monumentos: Colegiata, Antigua Universidad, Museo de Osuna, Museo Arqueológico, Plaza de Toros y Monastery of the Incarnation) Bono turístico colectivo para grupos de más de 10 personas: 6.50 € Incluye la visita a Colegiata, Monastery of the Incarnation y Museo Arqueológico.
Monasterio de la Encarnación
Plaza de la Encarnación, s/n, 41640
Información de contacto
Copiado en el portapapeles
Servicios e infraestructuras
Especialidades
Sacro (Museos), Iglesia (Otras Visitas)
Accede y descarga nuestras publicaciones: