Albuñol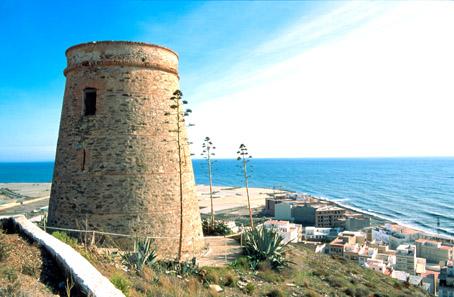 Read more
Read less
Albuñol, belongs to the Low Alpujarra region in Granada and is located on the southwest face of Sierra de la Contraviesa mountain range, in a valley at the foothills of Las Yeseras, close to the Mediterranean coast. It is gifted with a mild sub-tropical climate, which makes it perfect for cultivating figs and vines that produce the famous local wine.
The southern end of this village opens up to the coast, sharing what is called the Mediterranean essence: a tranquil sea, a bright blue and clear sky and a gentle breeze, which duly gives its name as Costa Tropical. Here it is especially worth mentioning two communities: La Rábita, which has a small fishing fleet and, El Pozuelo, which is very nearby.
History
Its name apparently comes from Vineola, diminutive of vineyard.

The famous cave of Murciélagos is an exceptional witness of its prehistoric past. In the 19th Century a large number of skeletons were found with their funeral possessions (necklaces, knives, ceramic pots and a golden crown amongst other objects) and remainders of the funeral garments used to bind the bodies, which traces back to a transitional period between the Neolithic and the Bronze Age. Chronologically speaking, it is the first known case of humans utilizing metals in the Iberian Peninsula.

It had moments of maximum splendour under Arab Andalusian culture due to the efficient utilization of agricultural sources. It was the capital of Gran Cehel under the Nasrid kingdom. At that time the coastal fortress in La Rábita, which nowadays are just remains, was of great importance. After the Christian re-conquest, the lands were acquired by Don Luis Zapata Portocarrero from the Crown. It was in this way Albuñol became a town. When the Moriscos were expelled at the beginning of the 17th century, the area was left almost deserted. It was reoccupied again by people from Castile, Galicia and León.

In 1834 it became the head of the legal jurisdiction under the same name. In the middle of the 19th century, the economy in Albuñol flourished thanks to the production of wine and raisins, which were exported outside Spain from the ports of La Mamola or La Rábita. Almost 7,000 people lived in the town then.

Nowadays, like the rest of the towns near the Granada coast, it has flourished once again thanks to the development of tropical farming and the tourist interest in the area.

Albuñol
Municipio
The weather today in Albuñol
Max

22

Min

19

Max

71

Min

66
°C
°F
en
Read more
There are no results to show
What territory do you want to visit?