La Giralda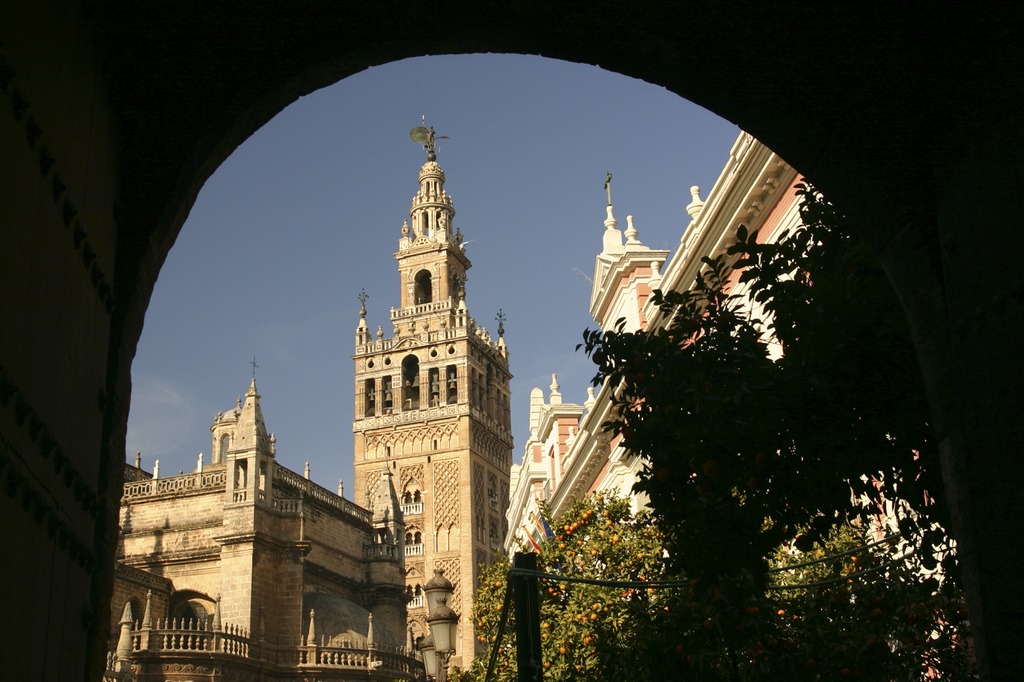 Read more
Read less
Minaret of the central mosque of Seville, which is today the , its construction began in 1184. Its name comes from the weathervane at the top of tower and which is known as the Giraldillo, which is in fact probably the best known symbol of the city. It was originally called the Triumph of the Victorious Faith and was once the largest bronze sculpture of the European Renaissance.
Construction concluded in 1568 with the addition of Renaissance bell chamber. Interestingly, the city of Marrakech has a twin tower just like the Giralda.
The tower, due to its complex history, comprises several perfectly interweaved sections, reflecting the cultural melting-pot in the city. For the construction of the Moorish part, as can be seen in its base, the remains of the buildings and stonework of Roman Hispalis were used, as they show various blocks with Latin epigraphs. The main body is square and the top part shows a polished style executed by Hernán Ruiz II.
The Giralda has 24 bells, 18 of which turn around and 6 of which are clapper. It is, therefore, the cathedral with the greatest number of bells.
General admission: €9 (includes visit to El Salvador. You can buy tickets at the ticket offices of the two churches). Reduced admission: €4 (pensioners and students up to 25 years). Audio guide: 3€. Optional visit to roofs and stained glass windows: €12 (booking at www.reservas.cubiertasdelacatedral.com). Admission free for people registered or residing within the Diocese of Seville, children under 14 years accompanied by an adult, disabled persons with a disability of over 65% (with companion free of charge when it is an essential requirement for the disabled person) and unemployed persons. The visit is included with the visit to the Cathedral.
Monday, from 11:00am to 3:30pm. (from 4:30pm to 6:00pm, free tour with audio guide, with advance booking in Spanish and English). Tuesday to Saturday, from 11:00am to 5:00pm. Sunday, from 2:30pm to 6:00pm.
Services and infrastructure
Accessible for handicapped
Facilities for Disabled
Historic building
Shopping area
Target audiences
Couples, For families, Friends, Lgbti, I travel alone, young people, Seniors
Specialties
Other Monuments or patrimonial Elements