Cathedral of Almería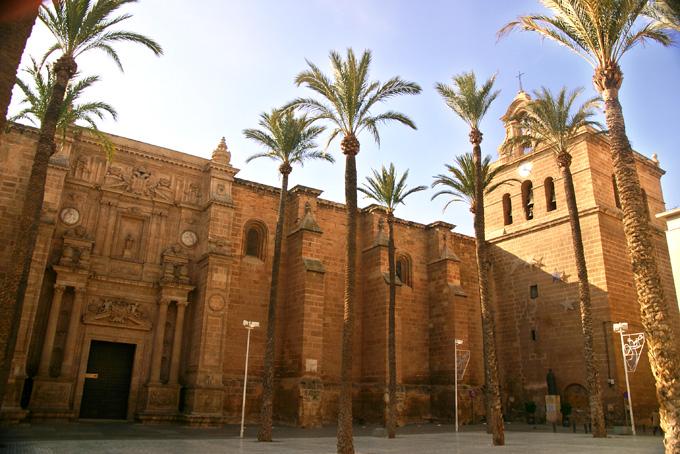 Read more
Read less
The Cathedral of Almería is only one of its kind since this 17th-century cathedral-fortress is Gothic in style with a Renaissance façade. It was built both as a place of worship and to defend the city from attacks by Berber pirates.
The architect Juan de Orea, following in the footsteps of Diego de Siloé and Pedro Machuca, projected the building of the cathedral under the postulates of the most classical 16th-century artistic Renaissance which can be clearly seen in the different features of this sacred enclosure. Works were promoted and extended years later under the episcopacy of Fray Juan de Portocarrero, the great sponsor and promoter of the Sagrario Chapel adjoining the Cathedral.
During the decades following the Civil War, bishops of Almeria promoted the reconstruction of the damaged heritage that was gradually increasing, and today this can be appreciated in the magnificent Permanent Levante and Poniente Exhibition Rooms created next to the Neoclassical cloister of the Cathedral, built in the 18th century.
A visit to the Cathedral of the Incarnation in Almería involves a journey through two thousand years of Christianity, and a delight for the senses enjoying the artistic excellence employed throughout its execution.
From 14-09-2023
Monday
10:00 - 14:30

16:00 - 19:00
Tuesday
10:00 - 14:30

16:00 - 19:00
Wednesday
10:00 - 14:30

16:00 - 19:00
Thursday
10:00 - 14:30

16:00 - 19:00
Friday
10:00 - 14:30

16:00 - 19:00
Comments: Last access 45 minutes before closing.
General: €6 Seniors (age 65 and over): €5 Youth / Students (ages 13 to 17 and student card holders up to age 25): €4 Groups (min. 20 people and agreements with sector companies): €4 Disabled (+33%) and unemployed: €4 Children under 13: €3 Free audio guide with your ticket. Free admission: Children up to age 12 accompanied by an adult. Disabled (+63%). Children of large families (up to age 17) accompanied by an adult. Registered residents of the city of Almería.
From Monday to Saturday from 10 am. to 2:30 pm. and from 4 to 7 pm. On Sunday from 3 pm. to 6 pm.
Services and infrastructure
Target audiences
For families, young people, Couples, Lgbti, Friends, deal, I travel alone, Professional, Seniors