Oratorio de la Santa Cueva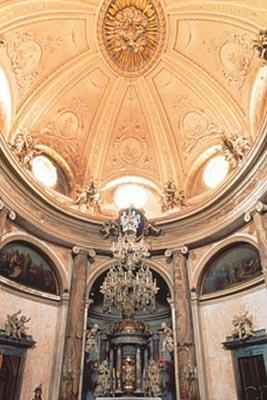 Read more
Read less
The Oratorio de la Santa Cueva consists of two chapels: the low chapel dedicated to the Passion and the high chapel dedicated to the Holy Sacrament. Construction was funded by the venerable priest Don José Sáenz de Santamaría, Marquis of Valdeiñigo.
The monument is considered to be one of the great monuments of Spanish art and the jewel of the neo-classical style in Cadiz. The architects Cayén and his disciple, Benjumeda, took part in the construction. The decoration was in the hands of the painters Zacarías González Velázquez, Antonio Camarón, Antonio Cavallini and Franz Riedmayer, but the most important paintings are those by Francisco de Goya.
There are also sculptures carved by masters such as Gandulfo, Vaccaro and José González "el Granadino". As a crowning point, the famous Austrian composer Joseph Haydn wrote his work "The Seven Words Last of Our Saviour on the Cross" for this chapel, a work which he himself considered his most successful score. The Ministry of Culture declared it a national historic-artistic monument in 1981.
Tuesday to Friday from 10 am. to 2 pm. and from 5 to 7:30 pm. Saturday from 11:30 am. to 2 pm. (At 12 pm. there is a guided tour) Sunday (free admission) from 10 am. to 2 pm. Monday and holidays: Closed.
Adults: € 4 Reduced *: € 2 * Pensioner, retired, unemployed, children aged 10 to 18 years and groups of more than 15 people. Children (up to 10 years): Free.
Services and infrastructure
Target audiences
I travel alone, Couples, Seniors, Friends, Lgbti, For families, Professional, young people, deal