Doña Mencía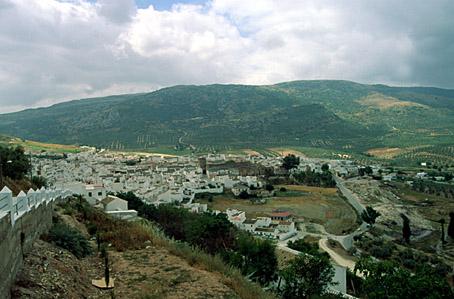 Read more
Read less
The town is situated in the south east of the province, in the foothills of the Subbetica mountains. It is part of Sierra Subbetica Natural Park, and limestone mountain ranges, valleys of holm and gall oak groves and river banks lined with white poplars are to be found, as well as large olive groves and vineyards. Together they create a landscape of immense beauty, in the midst of which lies the town itself, a mass of blue and white, clean and quiet with an air of antiquity, at the foot of El Laderon hill; within the labyrinth of narrow, winding streets stand the ruins of the castle which gave rise to the village.
History
Large fortifications have stood in the AREA since Roman and Iberian times, but tradition has it that the village under its present-day name dates back to the time of Alvar Perez de Castro (his wife was called doña Mencia Lopez de Haro), who was rewarded for his participation in the conquest of Cordoba alongside Ferdinand III with large quantities of land.
Doña Mencia once stood within the boundaries of Baena, but John I awarded it to Diego Fernandez de Cordoba (considered to be the founder of the town), in 1415.
In 1653, links with the Baena administration were severed and Doña Mencia was granted its own council.
In 1834 it came under the jurisdiction of Cabra.

Eminent citizens
Pedro Maria Cubero Lopez de Padilla (born 1810), bishop. Life senator and bishop of Orihuela.

Doña Mencía
Municipio
The weather today in Doña Mencía
Max

30

Min

24

Max

86

Min

75
°C
°F