Baños árabes del Bañuelo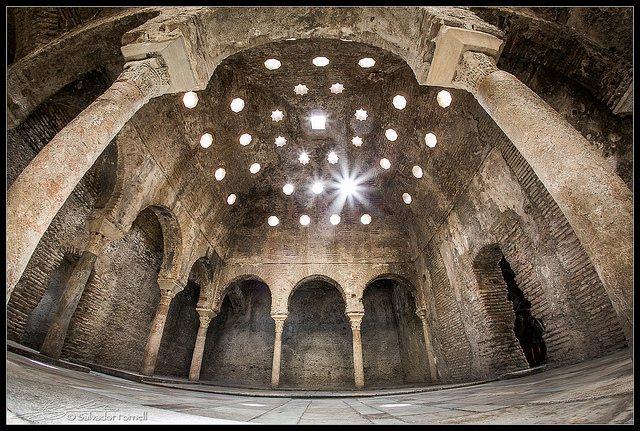 Read more
Read less
The Arab Baths of Bañuelo are in the Carrera del Darro, in Granada and contain a ḥammān, or Moorish baths from the Zirid era of the 11th century.
The Nogal and Bañuelo Arab Baths (in Arabic, Hamman al-Yawza) were built by the Jewish vizier, Ibn Nagrela, in the time of taifa King Badis, next to the Puente del Cadí bridge. They are some of the most valuable examples in Spain, and one of oldest works of the Muslim Granada, several centuries before La Alhambra.
You can look back to how life used to be in these important meeting points of Andalusian culture. Original columns and capitals, marble floors and remains of paint on the plinths give way to liminous perforated vaulted ceilings with star-shaped skylights allowing ventilation in the bathrooms. It faithfully reproduces the blueprints of the thermal baths, with the following rooms: entrance courtyard with a small pond, hall, cool room, central room, hot room, individual bathrooms and boiler. It was declared of Cultural Interest.
Tuesday-Saturday, 10am-2pm
Services and infrastructure
Target audiences
Lgbti, I travel alone, deal, Seniors, Professional, Couples