Estación de Autobuses de Granada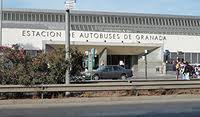 Read more
Read less
The Granada Bus Station is located in the north of Granada, and provides travellers with tourist information, hire car services, buses that connect the station with the cty centre and with Granada airport, taxis, restaurant and café.
The Granada Bus Station has 28 platforms, with all the long journey lines though the city.
It has a left luggage room on the ground floor next to the waiting room.
There is no public car park near the Granada Bus Station, but there are plenty areas with free parking near the station.
Bus arrival
You can get to Granada Bus Station on the city buses SN1 or SN2. Both buses link the north and the south of the city via Camino de Ronda. These buses do not go through the city centre. If you need to get the bus station from the city centre, you have to catch on the Línea Capacidad Alta (LAC) bus and then change at one of the stops and get the SN1 or SN2. Granada Bus Station is 3 km from the centre, 20 minutes by bus or taxi from the city centre, depending on the traffic.
From 6.30am to 1.30am: Every day Limited opening times from 7.30am to 1.30am: 25th December and 1st January Limited opening times from 6.30am to 8pm 24th and 31st December
Services and infrastructure
Accessible for handicapped
Airport transfer
Bar
Facilities for Disabled
Rent a car
Restaurant
Tourist Office
Target audiences
deal, Couples, Lgbti, Professional, young people, Seniors, Friends, For families, I travel alone