Huécija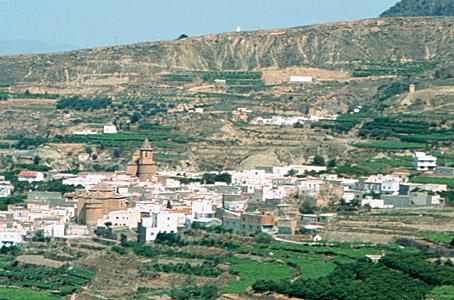 Read more
Read less
Village belonging to the AREA of the Valle Medio del Andarax, which stretches along the slopes of the Sierra de Gador in lovely scenery which includes fertile land with vines and fruit trees and also desert-like terrain. The village stands amidst this, one of the most aristocratic villages of the province in which the Parish Church and the Augustine Convent stand out.
History
The origin of its name is not known with any certainty; it is either Latin or Arabic. It is known however that in the Arab-andalusi period it was called Guacimora, Güecixa and Güecija.
At the end of the IX century, the Yemenites colonized this AREA and Huecija was a hamlet of a larger territory called Urs al-Yaman. Later, in the nazari period, it formed part of the AREA of Marchena.
With the Capitulations of Baza and Almeria in 1489, the Catholic Monarchs gave the AREA of Marchena to don Gutierre de Cardenas y Chacon. His son was named first Duke of Maqueda.
Before the War of the Alpujarras (1568-1570), Huecija had 138 houses, two ovens, three mills, five oil mills, an inn and two churches. This information gives us an idea of the hamlet's importance. After the war and the subsequent expulsion of the Moors from the Kingdom of Granada, repopulation was carried out wth 50 people from eastern Andalusia and Levante.
There was a slight increase in population during the XVII and XVIII centuries. This village was important during this time for an annual horse and domestic animal fair that took place there, a tradition that lasted until the XIX century.
The XIX century was characterized by the abolition of the landed estates in 1835 which brought judicial and administrative independence for the village. As in many other villages in the province, the exclusive cultivation of the Ohanes grape became widespread in the second half of the century. In 1910 there were 1,138 inhabitants. This activity came to an end due to the successive crises of the XX century. The grape cultivation was substituted by citrus fruits in the sixties.
Eminent citizens
Duke of Maqueda.
Huécija
Municipio
The weather today in Huécija
Max

20

Min

19

Max

68

Min

66
°C
°F