Huelma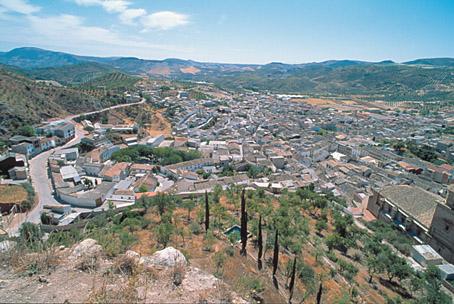 Read more
Read less
This beautiful village, situated to the south of the province, is a maze of streets with white traditional houses under the ruins of the castle. It is an attractive and harmonious village and this was the reason why, in 1971, it was declared Historic Artistic Site. The Castle and the Parish Church stand out. The village is surrounded by a spectacular countryside filled with olive groves, almond trees, cereal fields, orchards and dramatic mountains.
Its municipal district lies within the Sierra Magina Natural Park, a part of the Subbetic region, which offers beautiful and spectacular views. With regard to vegetation, Holm and Gall oaks are frequent, as well as pines trees and salgareños. Its rich and varied wildlife is also important.
History
From the remains found, the first settlements date from prehistoric times. Iberian and Roman remains have also be been found.
In the al-Andalus period it was a village-fortress and a strategic point in the border battles between Castile and the Kingdom of Granada.
In 1438, the Christian conquest was led by Don Iñigo Lopez de Mendoza, Marquis of Santillana, who was named perpetual Mayor of the Village. The famous Aben Zulema, arab Lord of the village, died in the battle. The Castle of the Dukes of Alburquerque dates from this period.
Huelma is known as "Little Granada" due to some similarities with Granada.
French troops under General Sebastiani tried to burn down the Castle in 1812.
The hamlet of Solera joined the municipality in 1974.
It was declared Historic Artistic Site in 1971, due to his monumental AREA.

Eminent citizens
Antonio Guzmán Merino, journalist, script writer and film critic.
Barajas, painter.
Huelma
Town
Province of Jaén
The weather today in Huelma
Max

22

Min

14

Max

71

Min

57
°C
°F