Jódar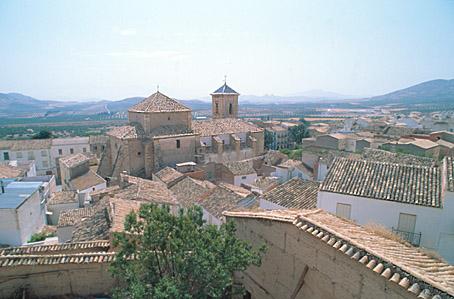 Read more
Read less
This beautiful village, surrounded by olive groves, is situated at the foot of the Sierra Magina Mountains, with vast extensions of olive trees on one side, and mountains on the other. The village, the most populated in the Park, spreads over a hill under the vigilance of a beautiful castle, which is also part of the Historic Artistic site. It also boasts a magnificent Parish Church.
Its municipal term lies within the Sierra Magina Natural Park, a part of the Subbetic region, which offers beautiful and spectacular views. With regard to vegetation, Holm and Gall oaks are frequent, as well as pine trees and salgareños. Its rich and varied wildlife is also important.
Part of the Alto Guadalquivir Natural Space, an important wetland of great environmental importance, also lies within its district.
History
During the al-Andalus period it was called Galdur y Xauda. Its castle is among the oldest in the province, as it has been documented since the year 860. In the 10th century, the Arab governor Jair Aben Xaquir, declared it independent and joined the rebellious Omar Ben Hafsun, later to betray him. One of Omar Ben Hafsun"s deputies beheaded him and sent his head to Cordoba.
The Christian conquest was carried out by Sancho Martí­nez de la Torre in 1231, by order of King Fernando III, as a starting point in the battle for Ubeda.
In 1485, Diaz Sanchez de Carvajal founds an estate over Jodar, with the approval of the Catholic Kings, until the abolition of estate privileges in the 19th century.

Eminent citizens
Juan Mata Carriazo, historian.
Bernabé Vargas-Machuca Muñoz.
Antonio Manrique Messí­a.
Juan de Aguilar y Páramo.
Miguel Fresneda Mengí­bar.
Mauricio Garcí­a Aguilar.
Manuel Noriega Muñoz.
Miguel de Carvajal Messí­a.
Blas de Mesa y Mengí­bar.
Antonio Almendros Aguilar.
José Amadeo Moreno Cortés.
Juan J. Molina Hidalgo.
Pedro Mesa y Arroquia.
Manuel Ruiz Amezcua, poet.
Jódar
Town
Province of Jaén
The weather today in Jódar
Max

25

Min

15

Max

77

Min

59
°C
°F