Laroya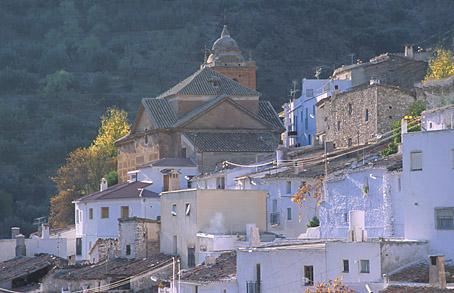 Read more
Read less
Situated in the marble AREA, in the middle of the Sierra de los Filabres, this village is spread along a mountain slope, in mountainous rural terrain in which the predominant crops are the olive and almond tree.
The Parish church stands out.
History
Closely linked to the villages dedicated to the extraction of marble. According to tradition, its name comes from the Arabic term for "pot" or "saucepan" because of its position among the mountain ranges.
Its history goes back to the Al-Andalus period, or at least it is the first information that we have of Laroya. It stood out for its prosperity in the marble zone.
With the Christian conquest, the Catholic Monarchs gave it the privilege of town status by means of a royal decree in 1501. Subsequently it was annexed to Baza together with other municipalities.
In the War of the Alpujarras (1568-1570), a story of a singular character, the Moor Alonso el Gazi is told. After the war it was deserted and then repopulated in the year 1579 by 12 people.
The history of Laroya remained linked to the changes in the AREA and also to its dependence on Baza. Its economy was traditionally based on the extraction of marble and on agriculture.
The emigration of the 60"s and 70"s, due to the difficulty faced by the village in subsisting, brought about a significant collapse of the population.
One of its oldest traditions are the quatrains of Laroya. It is a custom that is celebrated on Easter Sunday. The leader of the group is in charge of reciting the quatrains composed by the people of the village and which tell anecdotes of all types about the married people.
Laroya
Municipio
The weather today in Laroya
Max

28

Min

17

Max

82

Min

62
°C
°F