Medina-Sidonia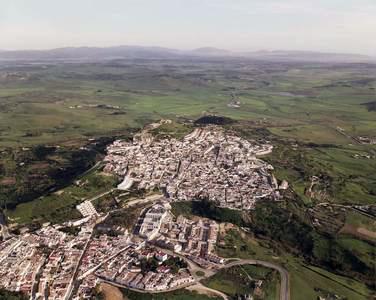 Read more
Read less
Located at the heart of the province, between countryside and mountains, most of the municipal area consists of fields and plains, among which Montellano Lagoon, part of Chiclana Marsh Complex, is to be found; the rest, made up of mountains, is part of Los Alcornocales Natural Park.
The town belonged to the Phoenicians, Romans and later the Moslems, who gave it the appearance that it still conserves today, though it enjoyed greatest wealth and splendour after becoming the seat of the Dukedom of Medina Sidonia. Proof of this is provided by the many buildings and places of interest still standing today: the Roman Sewers and Bridge, Saint Mary's Church, Saint Joseph's Monastery, the Castle and La Pastora Arch.
History
Historically speaking, the town of Medina Sidonia is one of the richest in the province of Cadiz, having been a meeting point for a variety of different civilisations.

Remains such as the caves which run from El Berrueco to La Sierra de la Momia, culminating in El Tajo de las Figuras (Benalup) and the "Venus of Fertility" ("Venus de la Fecundidad") prove that the area was inhabited in prehistoric times.
According to Estrabón, it was once Tartessian territory. The Phoenicians called it Bulla Assido, while for the Romans it was Asido Caesarina. With the arrival of the Visigoths it became the head of a bishopric.

The Moslems made the town the capital of Saduna, a large territory which played an important part in Al-Andalus (the name given to Moslem-occupied Spain) until it was destroyed by the Normans in the middle of the 9th century.

The Christian conquest of Medina Sidonia took place in 1264, when the town was captured by Alfonso X's troops.

From the 15th century until the time of the Cortes de Cádiz (Government assemblies), it belonged to the estate of the Guzman family.

Eminent citizens
Yusuf Ben Muhammad, a 10th-century writer.
Manuel Montes de Oca, (1804-1841). Sailor, politician and writer.
Mariano Pardo de Figueroa, who used the pseudonym Doctor Thebussem, (1828-1918). Writer.
Medina-Sidonia
Municipio
The weather today in Medina-Sidonia
Max

31

Min

21

Max

87

Min

69
°C
°F