Monachil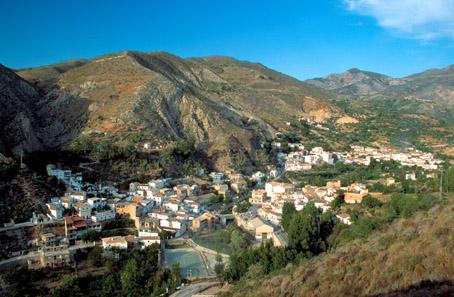 Read more
Read less
The municipality of Monachil is located on the northwest face of the Natural Park of Sierra Nevada. Left of the riverbank and at 810 m altitude, lies Monachil spreading across the mountain slopes reaching a height of 3,000 m. This AREA has places of exceptional beauty such as Los Cachoros, the Pool of Las Yeguas, the Trevengue or the fountains Frí­a and Hervidero. The Natural Park of Sierra Nevada was given the Reserve of the Biosphere award due to the diversity and uniqueness of its plants and wild life, thus it was also known as "the botanic jewel of Europe".
The ski station of Pradollano can be found in the municipality of Monachil..
Pradollano, meeting point in Sierra Nevada, offers all the necessary facilities for skiing and accommodation in Solynieve, the southern most ski station in Europe and with the greatest hours of sunshine per year. 38 slopes are available ranging in different degrees of difficulty.
History
The archaeological remains found in the municipality of Monachil date back to Prehistoric times. The western most Argar colony of Andalusia settled here.
It was inhabited in the Arab period, but after the taking of the kingdom of Granada by the Catholic Monarchs and the later, the expulsion of the Moors, these lands were left temporarily uninhabited. It was in 1572 when Phillip II ordered to repopulate the AREA.
In recent years, Monachí­l has improved in activity thanks to the installation of the ski station in Sierra Nevada

Monachil
Municipio
The weather today in Monachil
Max

33

Min

17

Max

91

Min

62
°C
°F
en
Read more
There are no results to show
What territory do you want to visit?