Montoro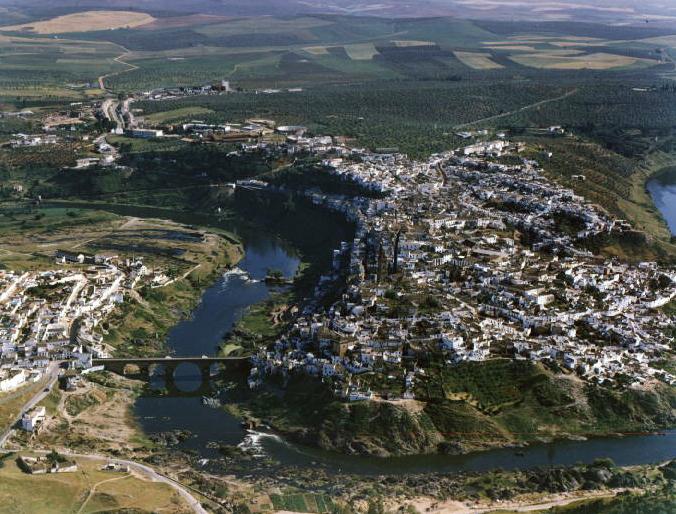 Read more
Read less
A town located in the east of the province of Cordoba, on the border with the province of Jaén.. Most of its territory lies in the foothills of the Sierra Morena, with the River Guadalquivir separating the town from the countryside. The mountains, the river and the countryside are, therefore, the three elements which shape Montoro's landscape.
The mountains belong to Sierra de Cardeña and Montoro Natural Park, and are home to holm oaks, wild olives, umbrella and maritime pines, and a collection of Pyrenees oaks, rare in Andalusia. It is also an area of great importance in terms of wildlife, hunting and cattle farming. The river, which flows through the town, is a key factor in the town's landscape, daily life and history. The countryside, teeming with olive trees, creates an environment which is typical of Cordoba province.
Montoro itself, with its Iberian, Greek, Roman and Moslem past, is situated atop a low hill which overlooks the river which divided the town into two districts, creating an impressive scene.
Declared a town of Historical and Artistic Importance in 1969, it offers a whole host of features and attractions for the tourist, such as the bridge over the river, Saint Bartholomew's Church, its steep streets with their whitewashed houses and Villaverde Tower.
History
Remains of an Ibero-túrdulo settlement have been found within the town's boundaries.
Under its Roman name of Epora, the town enjoyed a period of great significance and splendour during the Roman occupation. It was one of the towns which made up the Betica confederation dependent on Rome, and important relics have been found here.
Occupied by the Moslems, who, realising the strategic importance of its position, quickly fortified it heavily, it was captured by King Alfonso VII in 1146. After changing hands several times more, it was definitively conquered by Ferdinand III in 1240.
Having been under aristocratic control prior to falling under the jurisdiction of the city of Cordoba, Montoro attempted to buy the right to self-government from the Crown, a plan which failed due to lack of funds.
In 1658 jurisdiction and lordly control of the town were acquired by don Luis Mendez de Haro y Sotomayor, Marquis of El Carpio and Count-Duke of Olivares. Several years later, the Dukedom of Montoro was set up and joined with the House of El Carpio before later belonging to the House of Alba, in whose hands it remained until the abolition of aristocratic estates, whereupon it regained independent jurisdiction.
In recognition of its valiant actions in the face of the French invasion in 1808, it was awarded the title of "Loyal, Patriotic and Noble Town'.
In 1969, it was declared a Town of Historical and Artistic Importance.

Eminent citizens
Juan Antonio Cervera, bullfighter (1864-1924).
Antonio Rodriguez Luna, painter (1910-1986).
Anton de Montoro, poet (15th century).
Bartolome Roman, painter (16th and 17th centuries).
Juan Fernandez Franco, scholar and humanist (16th century).
Miguel Romero Esteo, dramatist (1930-).

Montoro
Municipio
The weather today in Montoro
Max

17

Min

14

Max

62

Min

57
°C
°F