New official app for tourism promotion in the Andalusia destination
13/01/2017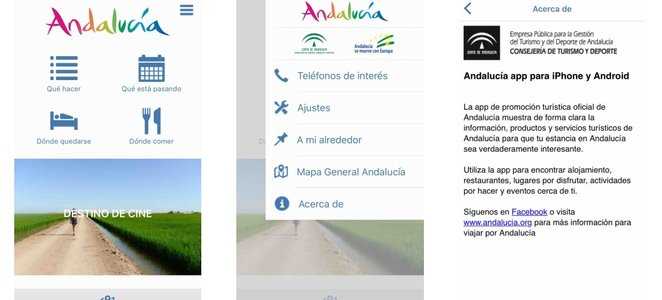 Andalusia, as a tourism destination, creates an app to offer its information and promotion services through the use of mobile devices (smartphones) by the new, digital traveller.
The new "Andalusia Tourism" app created by the Public Enterprise for Management of Tourism and Sport in Andalusia allows users to access the same contents available on its website using their iPhone and Android mobile phones, and entails, furthermore, the following advantages:
An Internet connection is not required as the data is downloaded together with the app, representing a great advantage for tourists from abroad without access to mobile data service as well as for Spaniards in rural or nature areas where mobile data coverage is poor or inexistent. Consuming under 100 Megabytes, all data is stored on contact information, description and services offered for more than ten thousand tourist attractions, including natural areas, monuments, museums, beaches, events, promotions, golf courses, hotels, restaurants, touristinformation offices, etc.
Information on tourist resources is presented in a format adapted to the mobile device, facilitating access and consultation.
Any tourist resource can be located in relation to the user's current location (or accommodation) to obtain directions on how to get there on foot or by car.
The App notifies the user when in proximity of important tourist resources, allowing them to view and head toward them.
When any changes are made to the contents of the official website of the Public Enterprise for Management of Tourism and Sport in Andalusia, these are automatically detected and transferred to a specific content manager for the App, processed and adapted, and periodically and automatically downloaded via the mobile devices as soon as an Internet connection is detected.
The App has a functional design that simplifies browsing and allows for finding information on any tourist resource within a maximum of three clicks. It is very easy to find tourist resources and view them in a list. The location of the resources found can be displayed on a map, together with the user's actual location.
All and any types of resources near the user's location can be found. The advanced search option may be used to limit the number of resources, filter by distance to the current position or accommodation, and to select the type of resources to be displayed. It is always possible between the list view and the map. Another possibility is the direct display on the map of the nearest resources.
Users may modify some of the App's settings, such as the address of their accommodation (to calculate distances and locate resources in relation to this position), establish the default radius to search for resources near their location, determine the distance within which they will be notified of noteworthy resources, deactivate these notifications, map type selection, or force the content update.
Andalusia Tourism is available in Spanish, English, French and German.
******DOWNLOAD THE ANDALUSIA TOURISM APP *******
https://play.google.com/store/apps/details?id=com.turismoandalucia

https://itunes.apple.com/us/app/andalucia-turismo/id1193357428?l=es&ls=1&mt=8
MORE RELATED HEADLINES
MON TUE WED THUR FRI SAT SUN
Distance to the town (km)