Palos de la Frontera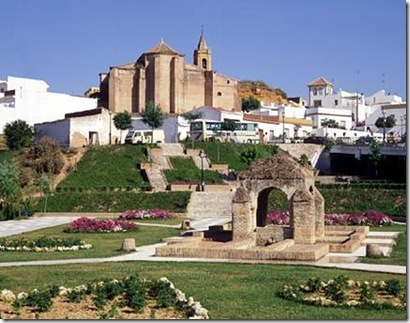 Read more
Read less
Village located in the region of Tierra Llana, opposite the capital and on the shores of Rio Tinto, on fertile land devoted to intensive cultivation of strawberries, fruits and vegetables. In the municial area are some of the lakes that form the Paraje Natural Lagunas de Palos y Las Madres.
A seaboard village, it was the cradle of the Discovery as it was from this port that Columbus set out on his adventure and the Pinzon brothers who accompanied him were born here.
It has various buildings of interest such as La Rábida Monastery, a very important centre of social and cultural relations with Latin America. Also the Castle, the Pinzon House, Saint George's Parish Church and the Fontanilla, an interesting Mudejar fountain protected by a shrine.
History
Its name comes from the Latin Palus, which means "lake".
In the Al-Andalus period it was a hamlet which formed part of the jurisdiction of Niebla and its inhabitants made their living from agriculture and livestock.
Between 1239 and 1240 the Christian conquest took place. It was donated by Alfonso XI in 1322 to Alfonso Carro and Berenguela Gomez.
Its participation in the events of the Discovery of America was decisive. By decree of the Catholic Monarchs, recruitment was carried out and the three caravels were readied. They left port on 3 August 1492 and returned here to this very port on 15 March 1493.
Eminent citizens
Martin Alonso Pinzon, sailor.
Vicente Yañez Pinzon, discoverer.
Alonso de Caceres, soldier.
Jose Luis Rosado, sculptor.
Loli Izquierdo Labrado, poet.
Palos de la Frontera
Municipio
The weather today in Palos de la Frontera
Max

23

Min

21

Max

73

Min

69
°C
°F