Purullena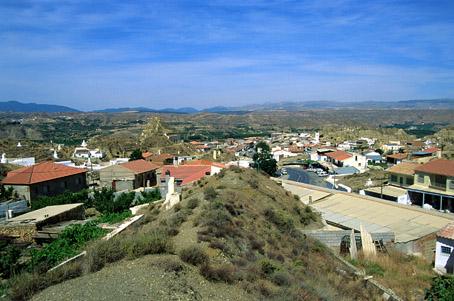 Read more
Read less
Located in the Trough of Guadix, in a valley watered by three rivers, visitors are amazed at the uneven profile of clay hills pierced by cave-homes seen from a distance due to the white chimneys that contrast the red coloured earth in the background.
Purullena is of the most representative examples of cave habitat. Visiting the troglodyte dwellings, its beauty and character, is a must. Visitors can also purchase the typical handicraft of the area, the local products, especially peaches, which are sold on the roadside.
History
The name of this village is Arab in origin and makes reference to the towers above the river Fardes built in the Middle Ages to prevent any incursions of the Christians stationed in Cazorla. However, the history of this village dates back 3,000 years, when these lands were inhabited by Prehistoric civilisations, as proved by the archaeological remains found in Cuesta del Negro, the remains of a Neolithic fortified enclosure, that consists of a necropolis with tombs including funeral dowry objects, and from the Late Bronze Age.

After these lands were re-conquered by the Christians, Purunella became property of the Crown, then it changed into an annexe of Marchal, and eventually in the 17th century it was granted the title of Royal Village.
Purullena
Municipio
The weather today in Purullena
Max

27

Min

17

Max

80

Min

62
°C
°F