Santa Eufemia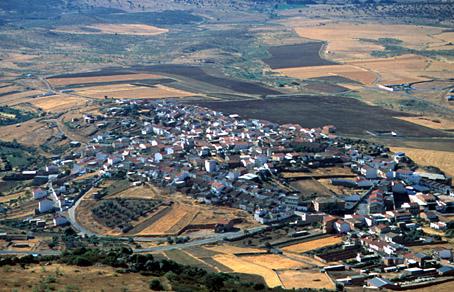 Read more
Read less
A village in the north of the province, in Los Pedroches Valley, in a landscape typical of the Sierra, with low peaks and holm oak pastures, as well as areas devoted to cereal crops. The land is ideal for extensive cattle farming.
The village itself lies at the foot of Cerro Pescuezo hill, site of the remains of Miramontes Castle. Parts of its old walls still remain and it has an air of mysticism and magic, which is enhanced by the peace and quiet of the village, the character of its people, and, above all, the original church of Our Lady of the Incarnation, a brick construction in Mudejar-Gothic style.
History
The first mention of this village"s name dates back to mediaeval times, when, in addition to Santa Eufemia, it is also referred to as Santofimia.
It was first reconquered by Alfonso VII the Emperor in 1155, and was definitively captured in 1243 by Ferdinand III, who awarded jurisdiction over the village to the Council of Cordoba.
In 1293, confirming the donation previously made by the Council of Cordoba, Sancho IV ceded Santa Eufemia to don Fernando Diaz.
In the late Middle Ages, the Lord of Santa Eufemia was also Lord of El Viso and of a district of Torremilano which later became known as Torrefranca. El Guijo also belonged to the same aristocratic estate.
Also in the late Middle Ages, Gonzalo Mejia, father, son and grandson succeeded one another as Lords of Santa Eufemia, controlling the village for the whole of the 15th century.

Santa Eufemia
Municipio