Cabalgata de Reyes Magos en Sevilla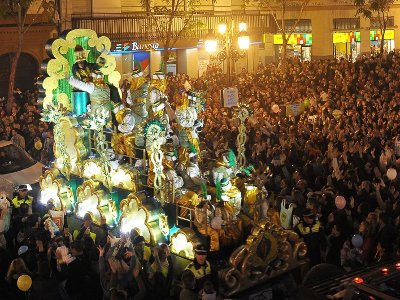 Read more
Read less
The Three Kings' Parade has been held in Seville every year without exception since 1918. To the delight of both young and old, every 5 January for more than 85 years, the streets of Sevilla have been filled with floats and carriages on this special day.
Thousands of people in Seville throng the streets every year to watch the Three Kings' Parade. There are over thirty floats making up the procession, all prepared to give away ninety tons of sweeties.
It is an exceptional display of light and colour. The Kings, their pages and ladies, all attired in sumptuous costumes as in Carnival, throw armloads of sweets to the children.
This represents the Kings' arrival in the city, where the next morning, on 6 January, they will deliver their presents to the children.
Services and infrastructure
Segments
Culture, Leisure and fun