Skiing and snowboarding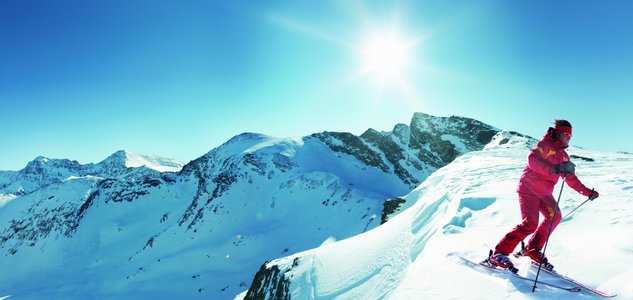 Sierra Nevada is a unique location in the municipal district of Monachil (Granada province), in the heart of the Penibetica range: it is home to Spain's and Europe's southernmost and highest ski resort, as well as the highest peaks on the Iberian Peninsula, Veleta (3,394 m) and Mulhacén (3,478 m), all just 100 km from the Costa Tropical and the Mediterranean Sea.
At Sierra Nevada, some 30 km from the city of Granada, you will find 85 skiable kilometres on 87 pistes and excellent lifts and services infrastructure, making this resort an unbeatable destination for winter sports.
Furthermore, the Resort Town of Pradollano is the highest town in Spain at 2,100 metres. It offers a full range of complementary services for the practice of these sports. Hotels, restaurants, pubs and bars meet leisure and entertainment requirements, along with a host of shops offering all types of products.
Sun and snow are guaranteed at this emblematic environmental paradise which received the UNESCO Biosphere Reserve designation in 1986. It was named National Park in 1989. It is a stunning natural landscape - an additional attraction that goes beyond skiing.
Where to practice them
At any of the ski facilities of the Sierra Nevada Resort.
The ski season always depends on the climate conditions that year, but the resort usually opens at the beginning of December and closes in April, or May if the temperature allows for the use of snow cannons.
Precautions and recommendations
Firstly, get information regarding piste, weather and snow conditions.
You should be aware of regulations for using facilities at the resort. You should respect queues and wait in the designated areas.
You must pay attention to the explanations, suggestions and requirements of resort staff, who wear corresponding uniforms or identification. You must also respect all on-piste warnings and information.
Remember that ski passes are non-transferable, and do not ski off-piste or at the piste edge to avoid entering in prohibited or dangerous areas.
If you are skiing or snowboarding for the first time, get an instructor to show you the basics and don't forget to wear a helmet. It is also a good idea to hire your equipment the first time, before making the full investment.
Above all, know your limits and choose the most appropriate piste for your level.
Necessary equipment
The equipment you will need depends on the level and discipline to be practised, although the basic elements for skiing are boots, skis (short ones for beginners), bindings and poles. If you are snowboarding, simply exchange the skis for a snowboard.
As far as clothing and accessories are concerned, you should use synthetic, breathable undergarments, fleece, ski suit, waterproof/breathable trousers and anorak, suitable sunglasses for skiing.
Lastly, don't forget your skin: high-factor sun cream and lip protection.
General information
Ideal for
Viajo Solo , Parejas , Lgbti , Jóvenes , Familiar , Amigos
Perfect locations
Further information
Primavera , Invierno