Sorbas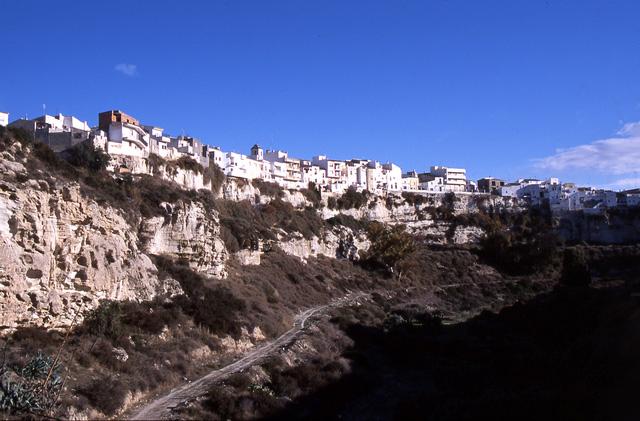 Read more
Read less
Village situated to the east of the province and included in the Karst en Yesos de Sorbas Natural Beauty Spot. It is positioned by a meander of the river Aguas, which its houses overhang. This river is the main feature of the Limestone Complex of the river Aguas (Complejo Kárstico del rí­o Aguas): a beautiful enclave divided by the river and a few streams that flow into it. The river crosses an extensive layer of gypsum, running through deep canyons.
The rainwater has produced other effects (valleys, chasms, microplateaus) in caves such as the Agua and Covadura.
History
The village is on top of a mountain and some call it "Cuenca Chica" (Small Cuenca) as some of its houses hang off the edge of the hill. Sorbas is a place-name of Arabic origin which means "pot of sand" which possibly comes from the neolithic fireproof earthenware pots that were made in this area.
From prehistoric times numerous traces of human presence have been found in these lands, as in the Treasure Cave and the Mela or Cariatiz Argar town.

The Phoenicians established commercial relations with the first known settlement of Sorbas, an ibero town. Later the Romans were also on these lands.

After the Al-Andalus period it was conquered by the Catholic Monarchs in 1488. The conditions in the Capitulations were harsh and the cohabitation between Christians and Moors became increasingly strained. During Christmas 1568 the Moorish uprising began which spread like wildfire through the Kingdom of Granada. After the conflict and at the orders of don Juan of Austria, the Moors were forced to leave the Kingdom of Granada. Repopulation was carried out with 50 people from Jaen, Linares, Toledo and Cazorla among other places. All were given the houses and land that the Moors had been forced to abandon. It was the capital of the estate of the Marquis of Carpio.
In its municipal area are the limestone karsts, from which gypsum is extracted and which also make a unique landscape of caves and galleries, some of which, like the Cueva del Tesoro, are worth visiting for their beauty.
It is important to mention the pottery tradition in existence for centuries. According to Madoz, there were 24 pottery factories in the middle of the XIX century. Its products were sold in Jaen, Granada, Murcia and many other places through the port of Almeria.
Sorbas
Municipio
en
Read more
There are no results to show
What territory do you want to visit?