Alájar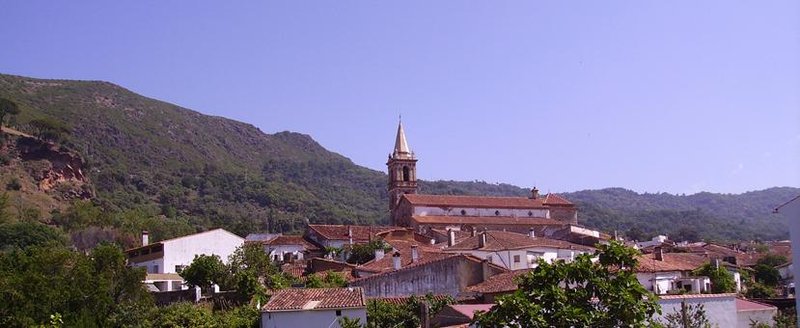 Read more
Read less
Village located in the heart of the Natural Park of Sierra de Aracena and Picos de Aroche, one of the most important protected areas of the Community that occupies the entire north of the province, with its meadows and small hills covered predominantly by forests of oak, cork oak, and chestnut coppice, where numerous streams run, forming a landscape of extraordinary beauty and attraction, ideal for farming, especially for the Iberian pig, which have ideal conditions here.
The village, declared a Historic-Artistic Site, is a collection of popular type houses, cosy and calm, with narrow streets, tightly integrated into the landscape and chaired by the church with its typical tower, located at the foot of the cliff Peña de Arias Montano (declared of Cultural Interest), so called because it was a place of retreat and meditation of Benito Arias Montano, theologian and adviser to King Philip II, and one of the most influential intellectuals of his time. From the cliff you can see an unforgettable panoramic.
History
Its name comes from the arabic "al-ajar", what means stone.

The first human settlements that are known about date from prehistoric times. Prehistoric and protohistoric remains have been found in relation to the Riotinto mining works. From the III millennium BC there are remains of lithic workshops in the Cueva de la Umbrí­a. From the middle of the II millennium we find remains in the settlement of Castañuelo and also traces of the celtic culture which settled in the area in the V century BC.

The Romans settled in the I century and worked the mines of the area. They created small agricultural and livestock centres which sustained the settlement and which were probably the origin of Aracena and various other villages of the zone.
During Al-Andalus times, it acquired importance as demonstrated by the almohade tower in its Castle and the Zulema fountain. In these times it depended on Niebla and Seville.

The Christian conquest was carried out by the Military Order of the Knights of the Hospital in the XIII century. It was given to the Order of the knights Templar by the Crown until 1213. Remains of the fortress still exist today.

Subsequently, it was passed to the ecclesiastical jurisdiction of Seville with the dissolution of the Templar and a Royal Priorate was constituted with dependence on the Crown.

In the times of Felipe IV it became a landed estate under the Count-Duke of Olivares, in the year 1640. It was named "Villa" in 1700.
Its downtown has been declared Historic-Artistic Site.

Eminent citizens
José Andrés Vázquez y Pérez, novelist, essayist and journalist.

Alájar
Municipio
The weather today in Alájar
Max

32

Min

21

Max

89

Min

69
°C
°F