Cascada La Cimbarra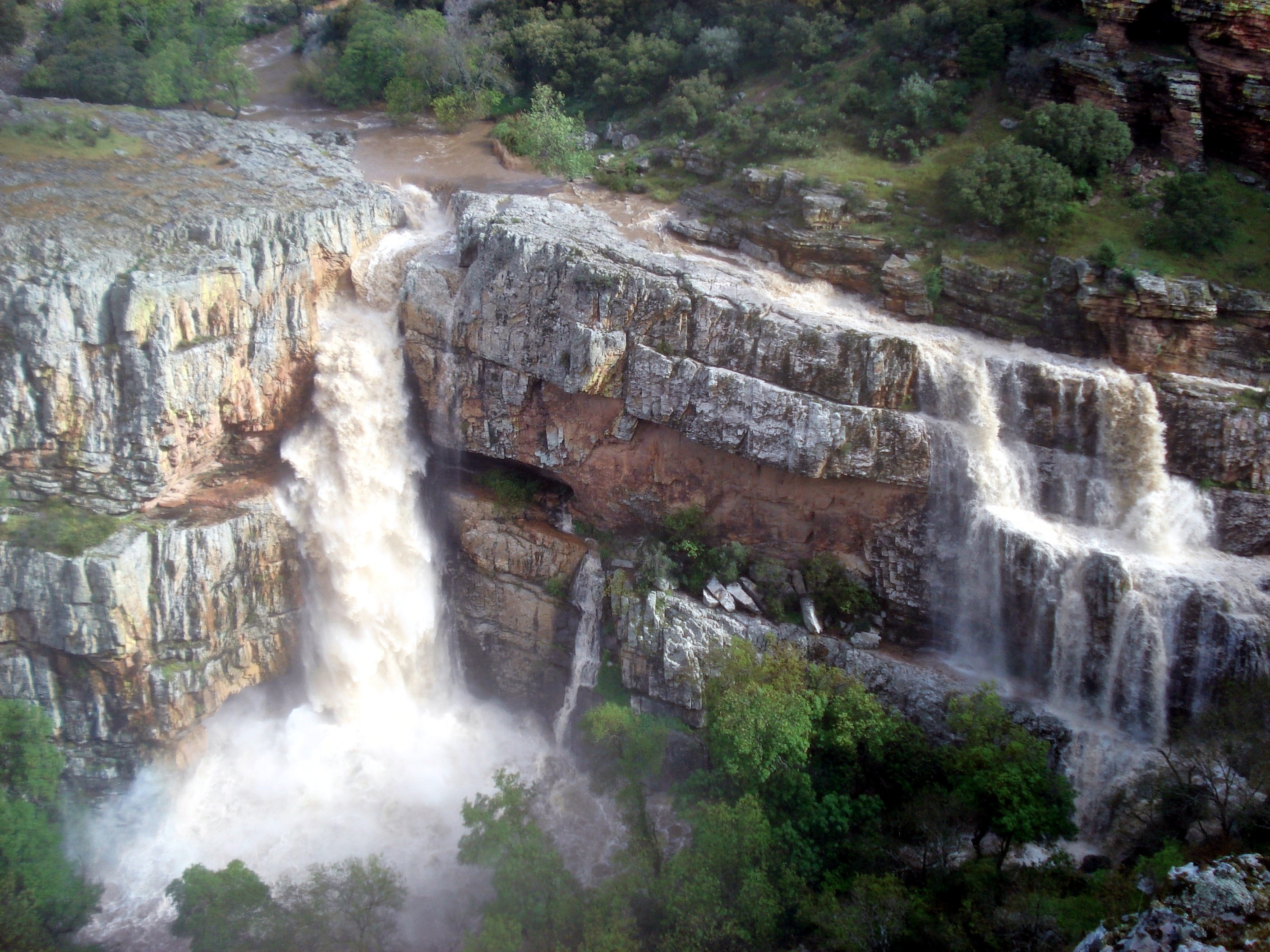 Read more
Read less
A few kilometres from the town of Aldeaquemada between the province of Jaén and Ciudad Real, the Cascada de la Cimbarra Natural Site offers a beautiful place carved into a spectacularly steep relief, where the Guarrizas River follows its course with a series of waterfalls The most beautiful and spectacular one is La Cimbarra, which is what the locals call these waterfalls.
There is an exposed vertical face, formed by rocky strata that are very resistant to erosion. This rock is called armorican quartzite and can also be seen in other places of the natural reserve and the surrounding area, such as in the Despeñaperros Nature Park or the Natural Monument of Órganos. Sometimes remains of fossils can be found on these rocks, or spectacular ripple marks caused by waves. These prints prove that these rocks had a sea origin, 500 million years ago.
Other waterfalls that are well-known for their beauty are the Cimbarrillo waterfalls, in the Martín Pérez stream, and the María Antonia waterfall, in the Cimbarrilla stream.
As well as the waterfalls, this nature reserve has a wide variety of vegetation. There are abundant small holm oak and cork oak copses with thick Mediterranean scrubland and an interesting riverbank forest near the water channels. The reforestation with stone pines and black pines, and the thick woods on the riverbanks give the area a pleasant aroma. Rustyback ferns grow in the cracks of the ravines. This type of fern gets its name from the colour of the inside of its leaves.
Thanks to the variety of landscapes, there are interesting animals – predators such as the fox or genet, birds such as the golden eagle, Bonelli's eagle, or eagle owl, and otters which live in the rivers. Due to the significant interest of its birds, the area has been declared a Special Bird Protection Area.
This protected area also stands out because of its valuable cultural heritage, which consists of a score of important pieces of prehistoric evidence. Some interesting examples are Tabla de Pochico, on the Cimbarra Hill, or Monuera and Desesperada. Here many priceless examples of prehistoric art have been found. For this reason, these sites have been declared a UNESCO World Heritage Site.
Guide to paths and sites of interest in the Cascada de La Cimbarra Natural Site.
en
Read more
Coordinates not available
Cascada La Cimbarra
23215
Services and infrastructure
Target audiences
Professional, I travel alone, For families, Couples, deal, Friends, young people, Lgbti
Segments
Nature, Sports, Turismo Etnográfico, Turismo Ciengético, Turismo Arqueológico, Geotourism, Astrotourism, Cyclotourism
Type of activity
Climbing, Mountaineering, Biking, Horse riding, Hiking, Hunting
Environmental units
Sierra Morena Continental mountain
Statement date
28 / 07 / 1989